Where to Watch Fireworks This Independence Day
After one of the stranger Independence Days on record, cities across the country are returning to their regularly scheduled programming this upcoming holiday weekend—with a few exceptions. Read on for how your city plans to celebrate this Fourth of July with fireworks, music, and more.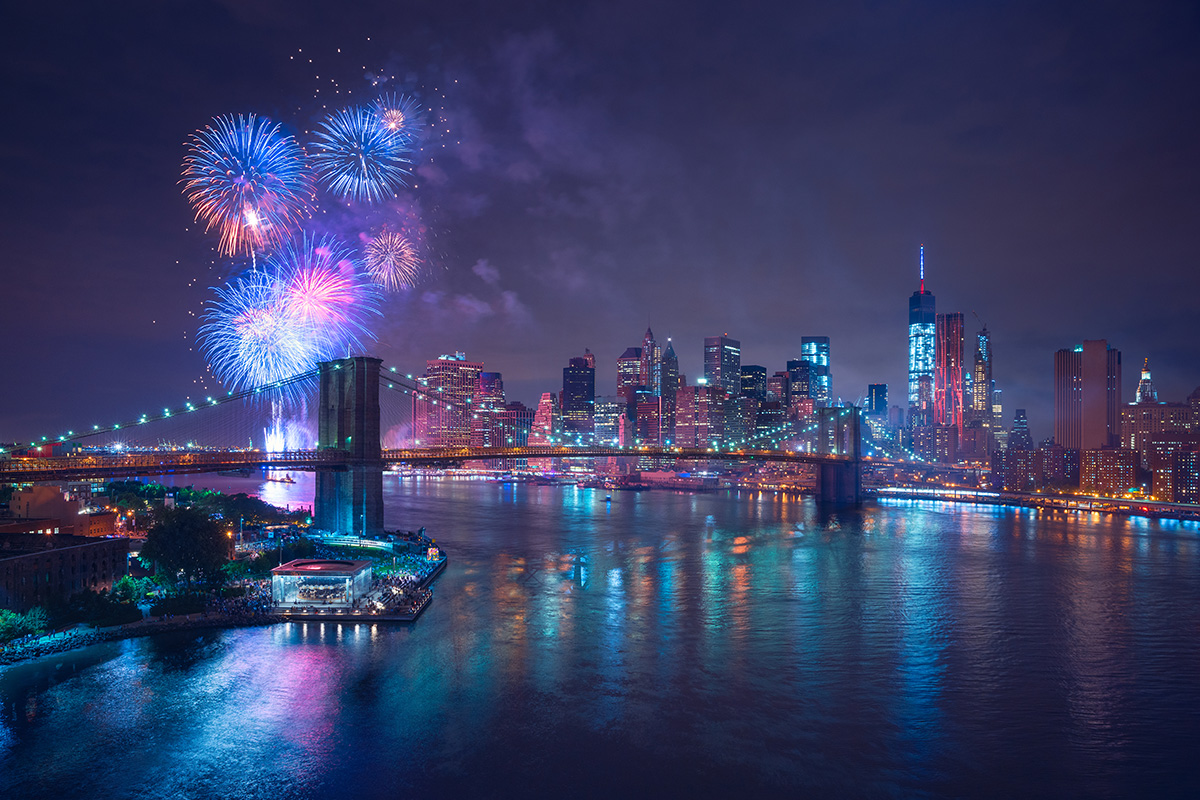 New York
New York's Macy's Fourth of July fireworks are back to their dazzling grandeur this year, after 2020's smaller displays. The New York Times reports that this year, dedicated viewing areas will be set up and maintained by the New York Police Department separating people who have been vaccinated and people have not. The 25-minute display over the East River is poised to start around 9:25 p.m.
Boston
After last year's pandemic-related cancellation, the fireworks display over Boston Commons will return though with a few adjustments. Instead of in the Hatch Shell, the Pops Independence Day Concert will be held at Tanglewood in Lenox, MA—and no concert viewing screens and sound towers will be set up in Boston or Cambridge this year, according to Boston Discovery Guide. The 30-minute fireworks display over Boston Commons will light up the sky around 10:30 p.m., soon after the concert ends.
Washington D.C.
Promising one of the most spectacular fireworks displays in recent memory, the National Park Service will once again host a 17-minute pyrotechnics display over the National Mall on July 4. The show will start at the very precise time of 9:09 p.m. with fireworks launched from both sides of the Lincoln Memorial Reflecting Pool. The National Park Service has a full guide on what to expect this coming holiday weekend.
Chicago
Chicago's Navy Pier won't be hosting its beloved Fourth of July display this year, but will be lighting off fireworks every Wednesday and Saturday throughout the summer until September 4. (July 3 is an exception—no display that evening.) But nearby towns and suburban communities are cooking up their own celebrations. The Chicago Tribune has the run-down on what to expect where.
San Francisco
The city's annual Fourth of July celebration is ON, with a full day of activities planned at Fisherman's Wharf. Although the details of the event have yet to be announced, Patch says the fireworks typically go off from about 9 p.m. to 9:30 p.m. Festivities will be going on across the Bay area, with Patch keeping a running list of what to expect.
Los Angeles
Fourth of July festivities are returning to the Rose Bowl, which will host the largest fireworks display in Southern California at 9 p.m. The Los Angeles Times reports a free event will be held outside the stadium on the lawn in the early afternoon, and the evening will give way to a ticketed event with music inside the bowl. General admission tickets are $20, and children under 5 are free.
The Related Life is written and produced by the Related Life Editorial Team. Be sure to follow us on Facebook and Instagram for the latest events, news and announcements in your area, and tag us for a chance to be featured @therelatedlife and #therelatedlife.