Scintillating New Reads You'll Love This Summer
These captivating page-turners have all the trademarks of a summer read, perfect for the beach or any vacation trip. They're character-driven with strong settings; they offer up tales of mystery, thrills, romance and culture. Our experts at McNally Jackson have helped curate this list of new novels worth packing to the shore, the park, or wherever else summer takes you. Keep reading for their recommendations.
Cult Classic by Sloane Crosley
One of the most anticipated books of 2022, "Cult Classic" is a story of love, memory, morality, and mind control, as well as a fresh foray into the philosophy of romance.
One night in New York City's Chinatown, a woman is at a work reunion dinner with former colleagues when she excuses herself to buy a pack of cigarettes. On her way back, she runs into a former boyfriend. And then another. And . . . another. Nothing is quite what it seems as the city becomes awash with ghosts of heartbreaks past.
What would normally pass for coincidence becomes something far stranger as the recently engaged Lola must contend not only with the viability of her current relationship but with the fact that both her best friend and her former boss, a magazine editor turned mystical guru, might have an unhealthy investment in the outcome. Memories of the past swirl and converge in ways both comic and eerie, as Lola is forced to decide if she will surrender herself to the conspiring of one very contemporary cult.
Order "Cult Classic" here.
The Novelist by Jordan Castro
Jordan Castro offers an inventive and funny take on one young man's single morning as an aspiring novelist. Through the course of the morning, he tries and fails to write an autobiographical novel, finding himself instead drawn into the infinite spaces of Twitter, quotidian rituals, and his own mind. The act of making coffee prompts a reflection on the limits of self-knowledge; an editor's embarrassing tweet sparks rage at the literary establishment; a meditation on first person versus third examines choice and action; an Instagram post about the ethics of having children triggers mimetic rivalry; the act of doing the dishes is at once ordinary and profound: one of the many small commitments that make up a life of stability.
Order "The Novelist" here.
Meet Me By The Fountain: An Inside History of the Mall by Alexandra Lange
"Meet Me By The Fountain" offers a fun examination of a fixture of American cultural history, says Madeline Kiss, marketing director at McNally Jackson.
Few places have been as nostalgized, or as maligned, as malls. Since their birth in the 1950s, they have loomed large as temples of commerce, the agora of the suburbs. In their prime, they proved a powerful draw for creative thinkers such as Joan Didion, Ray Bradbury, and George Romero, who understood the mall's appeal as both critics and consumers. Yet today, amid the aftershocks of financial crises and a global pandemic, as well as the rise of online retail, the dystopian husk of an abandoned shopping center has become one of our era's defining images. Conventional wisdom holds that the mall is dead. But what was the mall, really? And have rumors of its demise been greatly exaggerated?
Order "Meet Me By The Fountain" here.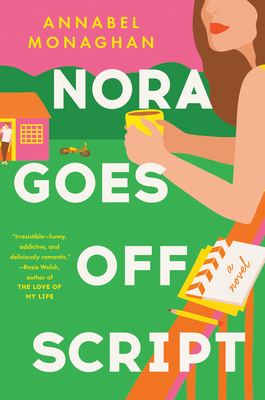 Nora Goes Off Script by Annabel Monaghan
This breezy, well-written novel was named one of the Best Beach Reads of the Summer 2022 by publications including Country Living, The Washington Post, USA Today and Business Insider. It follows protagonist Nora Hamilton, who as a romance channel screenwriter knows the formula for love better than anyone. When her too-good-to work husband leaves her and their two kids, Nora turns her marriage's collapse into cash and writes the best script of her life. No one is more surprised than her when it's picked up for the big screen and set to film on location at her 100-year-old-home. When former Sexiest Man Alive, Leo Vance, is cast as her ne'er do well husband Nora's life will never be the same.
The morning after shooting wraps and the crew leaves, Nora finds Leo on her porch with a half-empty bottle of tequila and a proposition. He'll pay a thousand dollars a day to stay for a week. Filled with warmth, wit, and wisdom, Nora Goes Off Script is the best kind of love story—the real kind where love is complicated by work, kids, and the emotional baggage that comes with life.
Order "Nora Goes Off Script" here.
Nightcrawling: A Novel by Leila Mottley
A New York Times Best Seller, "Nightcrawling" centers around a protagonist name Kiara and her brother Marcus. The two are scraping by in an East Oakland apartment complex optimistically called the Regal-Hi. Both have dropped out of high school, their family fractured by death and prison. But while Marcus clings to his dream of rap stardom, Kiara hunts for work to pay their rent—which has more than doubled—and to keep the nine-year-old boy next door, abandoned by his mother, safe and fed. One night, what begins as a drunken misunderstanding with a stranger turns into the job Kiara never imagined wanting but now desperately needs: nightcrawling. Her world breaks open even further when her name surfaces in an investigation that exposes her as a key witness in a massive scandal within the Oakland Police Department.
Order "Nightcrawling" here.
The Related Life is written and produced by the Related Life Editorial Team. Be sure to follow us on Facebook and Instagram for the latest events, news and announcements in your area, and tag us for a chance to be featured @therelatedlife and #therelatedlife.