Related Book Club: McNally Jackson's Best Beach Read Picks
In partnership with McNally Jackson, we are excited to reveal the next books in our virtual book club, featuring some of the most addicting fiction and nonfiction titles to curl up with while you spend time at home.
Last month, we read the love story "Normal People" by Sally Rooney and the inspiring cookbook "Dining In" by Allison Roman. This month, we're embracing the warm weather with some easy and absorbing page turners; find out more about them below and get started reading!

"Beach Read
" by Emily Henry
A smart summer love story between a romance writer and a writer of literary fiction. When both are struck with a serious case of writer's block, they challenge each other to write something opposite from what they normally would; he will write something happy, and she will write something with gravitas. The important thing? They will both write (and maybe fall in love). Read more and order now. 
"Party of Two" by Jasmine Guillory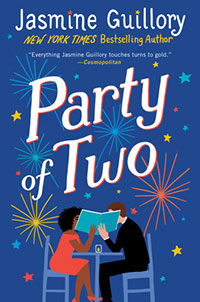 One of the summer's most anticipated romances from a beloved author, "Party of Two" traces the romance between a big-shot lawyer and a junior senator. While both try to keep their love a secret in the beginning, it only lasts so long before the spotlight – and the wave of attention that comes with it – threatens to destroy them. Read more and order now. 

"Evvie Drake Starts Over" by Linda Holmes
New in paperback, this cheerful romance follows a newly retired baseball player and a widow in Maine. Both have secrets from their past they'd rather forget, but find a way to face them and move on – and closer to each other as a result. Read more and order now.


"Sex and Vanity" by Kevin Kwan
The latest novel by the author of  the runaway bestseller "Crazy Rich Asians,"  "Sex and Vanity" offers the perfect formula for a thrilling book to read by the pool; a heroine torn between her two identities  – and two lovers – plus all the decadent touches you'd expect from this chronicler of the über rich. Read more and order now.
The Related Life is written and produced by the Related Life Editorial Team. Be sure to follow us on Facebook and Instagram for the latest events, news and announcements in your area, and tag us for a chance to be featured @therelatedlife and #therelatedlife.