How to Style Your Mask: Hudson Yards Edition
This story originally appeared on Hudson Yards. 
Masks are the summer's must-have accessory in New York, which makes sense given that they've been proven to be the best way to keep the city healthy. In an attempt to lighten the mood a bit, many brands are now selling some quirky options, so your mask can be as much an expression of yourself as your shirt or shoes. What's the perfect mask-match for your ensemble? Well, that depends. For help with this suddenly relevant couture choice, look no further than The Shops at Hudson Yards.
If You're Going...Back to Work
For some added playfulness to Banana Republic's sleek black jumpsuit, pair with an animal print scarf and one of their camouflage masks. Throw on a beige jacket to tie it all together, and to protect you from that chilly, office AC (yes, it's still there).
If You're Going ... To an Outdoor Happy Hour
Mercado Little Spain's open-air seating is just the spot for enjoying a glass of sangria while showing off Coach's nostalgic masks, which feature floral motifs and character patches such as T-rex and unicorn. Pair any of them with Coach's go-everywhere beige shirt dress and cat-eye sunglasses. And because we need something to carry our hand sanitizer now, pick up a Willis Top Handle bag too.
If You're Going...To Work Out
Rhone's gear is built for performance—its tech tee and switch shorts are made of quick-dry wicking material that's more essential than ever now that most training regimens are taking place outside in the summer heat. The brand's brightly colored, adjustable masks are just as easy to wear on your morning run.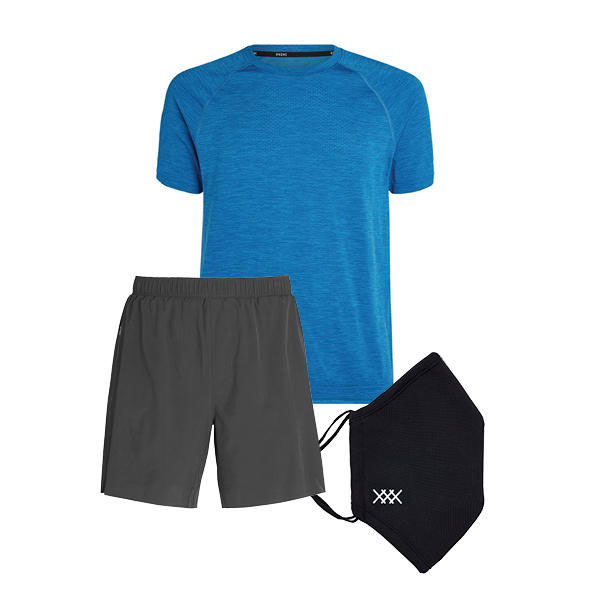 If You're Going ... To Meet Someone for Brunch 
What goes with mimosas and avocado toast? Kate Spade's happy-making, multi-colored floral mask. And what goes with that? Kate Spade's poplin black mini dress. The brand's parlor platform sneakers dress it down nicely.
If You're Going ... To a Backyard BBQ 
Faherty's organic cotton mask is as soft as it is stylish. Better yet, the brand is donating 10% of mask sales to Spirit Horse Nation and Lakota Way Healing Center to honor the indigenous artists who inspired the design. Pair it with the casual-chic retailer's all-day shorts and polo and you're good to go. Beware the dripping sauce, though!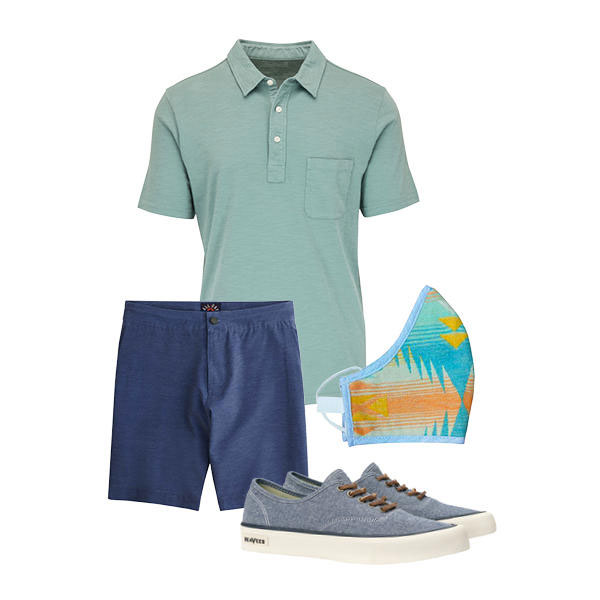 This story originally appeared on Hudson Yards.