Try These Romantic Date Night Dinner Recipes
What's the recipe for a romantic night in? The Related Life reached out to two powerhouse restaurateurs from each side of the country, for a bicoastal take on the perfect date night meal. They agreed that decadence and simplicity are key, and shared recipes evidencing this concept -- that cooking a meal rich in flavor does not have to be difficult.
Los Angeles-based Chef Jeffrey Chen, of San Laurel, Chef Jose Andres' new venue at The Grand by Gehry, shares his comforting vermicelli mac-n-cheese. New York-based Executive Chef Brian Yurko, culinary lead at Queensyard in Hudson Yards, provides a step-by-step guide for his wild mushroom risotto.
Keep reading and take your pick for a delicious meal you can craft at home...and enjoy with your special someone!
Vermicelli Mac-n-Cheese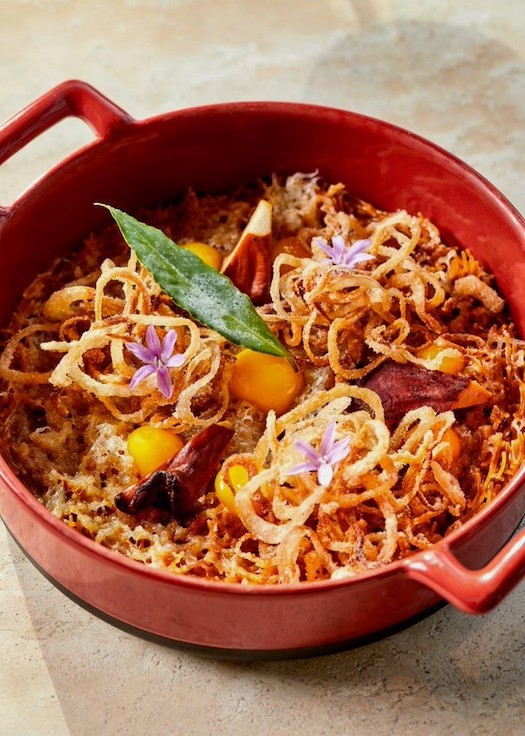 "The Vermicelli Mac-n-Cheese is a decadent, yet simple recipe that any novice cook can master in the kitchen to impress," said Chef Jeffry Chen. "The iconic yet familiar dish naturally evokes a sense of nostalgia, comfort and warmth. The combination of ingredients can also be refreshed seasonally. For Valentine's Day, I recommend adding elegant black truffles to accentuate the dish with for an elevated taste and texture, making it perfect to pair with a glass of wine."
Ingredients:
1 shallot, sliced 1/8" thick
Rice flour, as needed
1 garlic clove
2 bay leaves
3/4 cups Vermicelli pasta, toasted
7 oz chicken stock
4 oz heavy cream
1 oz Idiazábal cheese, finely grated
1 oz fudgy egg yolk*
3 Morel mushrooms*
*To make fudgy egg yolks, cook egg yolks sous vide at 147° F for 1 hour, strain and season with salt and pepper.
Preparation:
1.)  Peel and slice shallots slightly less than 1/8" thick.
2.). Place shallots in a bowl, coat in rice flour and sift excess off.
3.)  Fill a sauce pot with about an inch of oil. Add coated sliced shallots to the hot oil, fry and set aside on a paper towel- lined plate to drain.
4.) Put a small sauce pot on the heat. Heat olive oil on medium heat, adding a garlic clove and a bay leaf.
5.) Add the vermicelli pasta and toast until golden.
6.) Add stock, heavy cream and bring to a simmer.
7.) Cook on low for 4 minutes. Season to taste.
8.) Remove garlic clove and bay leaves and place vermicelli pasta mix in a dish.
9.) Finely grate Idiazábal cheese over the pasta and top with swirls of fudgy yolk sauce.
10.) Place a small saucepan over high heat, add oil and fry off the morel mushrooms.
11.) Add the fried mushrooms to the pasta dish and finish with the crispy shallots.
Wild Mushroom Risotto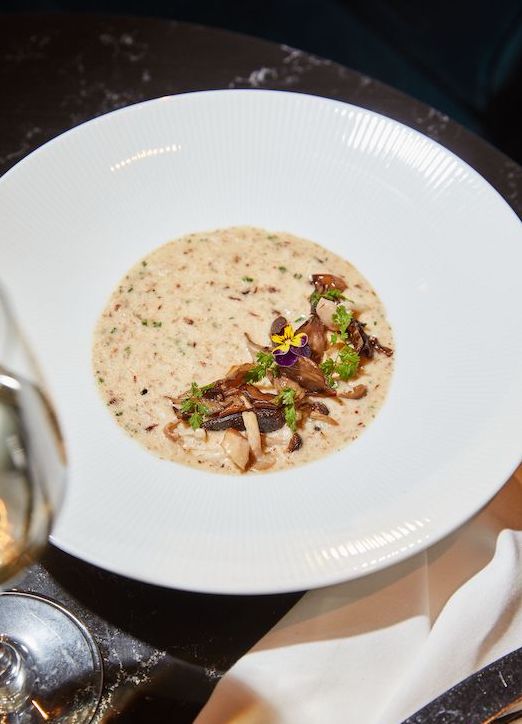 "Risotto is deceptively simple, with the main ingredient being patience," noted Executive Chef Brian Yurko. Comforting and luxurious, risotto dishes make an excellent choice for a romantic evening.
Ingredients for the Mushrooms: 
8 oz.                      Mixed Mushrooms
1 Sprig                  Fresh Thyme
As Needed           Butter
As Needed           Olive Oil
To Taste               Kosher Salt & Black Pepper
Preparation for the Mushrooms:
1.)  Trim the stems of the Mushrooms, then give them a quick rinse to remove any dirt. Lightly dry with paper towels. Hearty mushrooms are a good choice (such as Hen of the Woods, Oyster, King Oyster, Hon Shimeji). Cut them to be approximately the same size, so they cook at the same pace.
2.)  Add the Butter and Olive Oil the pan and heat until it starts to foam. Add all the Mushroom and the Thyme; sauté until they turn evenly golden brown. This will take a while, be patient.
3.)  Remove the Mushrooms from the pan and drain on a paper towel, season to your liking with the Salt and Pepper.
Ingredients For the Risotto:
As Needed           Olive Oil
4 oz.                       Arborio Rice
1 ea.                      Medium Shallot - Minced
¼ cup                    Dry White Wine
1 quart                  Unsalted Stock (veggie or chicken)
To Taste               Kosher Salt & Black Pepper
To Taste               Butter
To Taste               Mascarpone Cheese
To Taste               Freshly Grated Parmesan
Preparation for the Risotto:
1.)  Start by Mincing the Shallot and getting your stock of choice hot.
2.)  Heat a pot over medium heat and add the Olive Oil; using a pot you think it too big is good choice here. You will want something with tall sides for all the stirring, so sauté pans are not a great choice.
3.)  Add the Minced Shallot and cook gently until it becomes translucent. If the Shallot burns, you'll have to start over, because we don't want any color here. Once the Shallots are cooked, add the rice and let it toast in the oil for a couple of minutes. You are not looking for lots of color here either, but to get the uncooked rice hot.
4.)  Add the White Wine all at once, and  then bring the pan to a gentle simmer. Stir occasionally to make sure nothing sticks – no need to stand there perpetually. Simmer until the wine vanishes, and then start adding the hot Stock a couple ounces at a time. You are not looking to make rice soup, rather add slowly and just enough so that it will continue to simmer and absorb into the rice. Continue adding stock until you get to the texture you want... think al dente pasta with a slightly firm center. If you don't like that texture, add more stock, it's totally up to you.
5.)  At this point, turn the heat down low to keep the Risotto warm and add the Parmesan, Mascarpone, and a big nob of Butter, all to your liking. This is where Risotto gets truly creamy. Season with Kosher Salt and some freshly ground Black Pepper. Serve immediately in your favorite bowl topped with the Sautéed Mushrooms.
The Related Life is written and produced by the Related Life Editorial Team. Be sure to follow us on Facebook and Instagram for the latest events, news and announcements in your area, and tag us for a chance to be featured @therelatedlife and #therelatedlife.