Staying In: Two Signature Recipes from Sakara Life
In these difficult times, it's important to find activities and tasks to do that will keep you feeling productive and centered. We can't think of a more enriching and nurturing task than cooking a delicious meal, which is why we asked Sakara Life to send over two of their signature recipes for a Banana Bread that will look great on Instagram, and a light, healthy Zucchini Carpaccio. 
Want more healthy food in your life ? Related residents receive a special offer on Sakara Life; check the Related Connect App for more details. 
Classic Banana Bread with Vanilla-Tahini Butter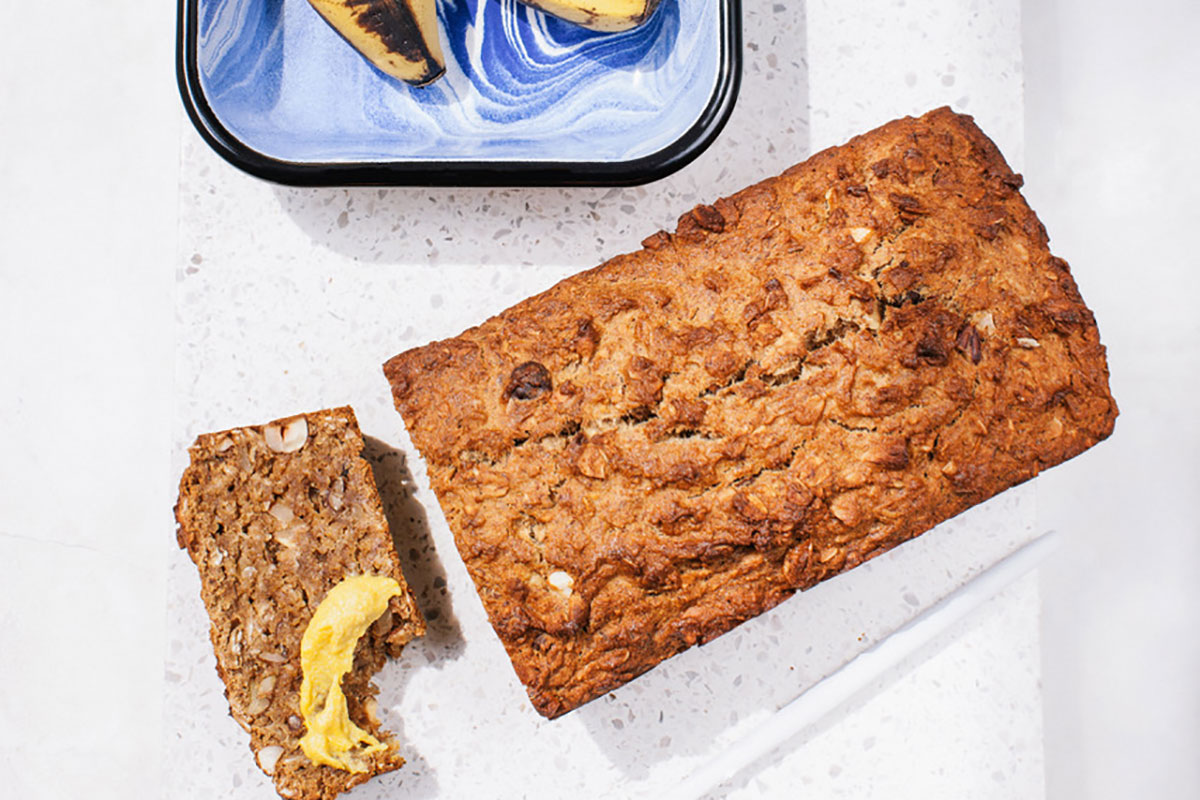 Ingredients (Makes 12 slices)
For the banana bread

∙ 1 tablespoon flaxseed meal
∙ 3 tablespoons extra-virgin coconut oil, melted, plus more for the pan
∙ 3 medium-ripe bananas, mashed (about 1 1/2 cups)
∙ 1/2 teaspoon pure vanilla extract
∙ 1/2 cup coconut palm sugar
∙ 3 tablespoons raw honey
∙ 3 1/2 teaspoons baking powder
∙ 3/4 teaspoon sea salt
∙ 1/2 teaspoon ground cinnamon
∙ 1 1/4 cups almond meal
∙ 1 1/2 cups oat flour
∙ 1 1/2 cups gluten-free oats
∙ 3/4 cup almonds,finely chopped
∙ 1 cup hazelnuts, finely chopped

For the vanilla-tahini butter

∙ 1 cup store-bought organic pumpkin puree
∙ 1 cup tahini
∙ 2 tablespoons wildflower honey
∙ 1/2 teaspoon pure vanilla extract
∙ Himalayan salt, to taste
Directions
1) Make the banana bread: In a small bowl, stir together the flaxseed meal with 2 tablespoons of water. Allow the mixture to sit for 2 minutes to thicken slightly.
2) Preheat the oven to 350 F. Lightly grease an 8 by 4 1/2 inch loaf pan with oil and set aside.
3) In a large bowl, whisk together the bananas, vanilla, oil, sugar, honey, baking powder, salt, cinnamon, and flaxseed meal-water mixture. Add the almond meal, flour, and oats. Stir until combined. Fold in the almonds and hazelnuts.
4) Pour the batter into the prepared loaf pan and bake for 1 hour, or until the bread feels firm and the top has turned golden brown and is slightly cracked. If the bread starts to brown too quickly, cover with foil and continue baking.
5) Make the vanilla-tahini butter: In a food processor or blender, combine the pumpkin, tahini, honey, and vanilla with a pinch of salt and blend until smooth.
6) Enjoy the bread warm, slathered with the tahini butter and a tiny sprinkle of salt. Store leftovers in the fridge—the bread for up to 3 days, the tahini for up to 5. This bread also freezes well. Wrap the loaf in foil and a freezer-safe plastic bag and store in the freezer for up to 2 months.
Zucchini Carpaccio with Cashew Squash Blossom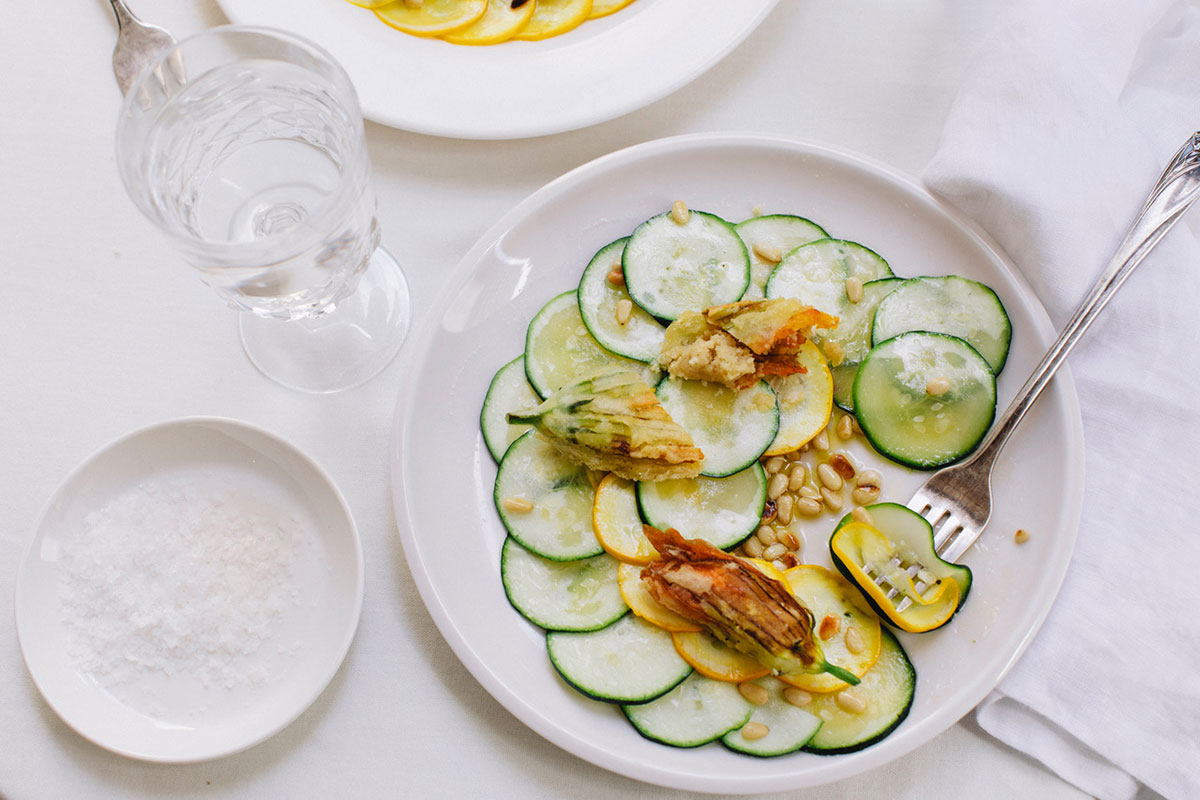 Ingredients (Serves 2-4)
For the Salad

∙ 1 tablespoon extra virgin olive oil, plus more for garnish

∙ ¼ cup pine nuts, toasted

∙ ½ zucchini, thinly sliced on a mandolin

∙ ½ squash, thinly sliced on a mandolin

∙ ½ teaspoon salt

∙ 1 lemon
Directions
Place pine nuts in the middle of a large plate and cover them with olive oil. Pick up the plate with both hands and swirl the olive oil and nuts until they coat the surface. Shingle the zucchini and squash in an overlapping, circular pattern, and salt. Allow it to sit for a few minutes until you see moisture release from the vegetables, then squeeze the lemon over the entire plate. Top with blossoms.
For the Blossoms

∙ 12-ounce raw cashews, soaked in water for at least an hour

∙ ¼ cup tahini

∙ ¼ reserved water from soaked cashews

∙ 1 teaspoon salt

∙ 1 lemon

∙ 2 tablespoons extra virgin olive oil, divided

∙ 2 squash blossoms, stamen removed

∙ 1 cup rice flour

∙ 1 cup cold sparkling water

∙ ½ teaspoon baking powder

∙ ½ teaspoon salt
Directions
1) For the cashew cheese: In a food processor, combine cashews, tahini, water, salt, lemon juice and 1 tablespoon olive oil. Use as is or strain through a fine-mesh strainer for extra smooth cheese. (Makes 2 cups.) Place the desired amount of cheese in each blossom (I recommend approximately 2 tablespoons).
2) For the blossom dredge: In a medium bowl, whisk together rice flour, sparkling water, baking powder and salt.
3) Heat a small skillet over medium high heat and add remaining 1 tablespoon of olive oil. Dunk each filled blossom in the batter and transfer to the hot skillet. Cook for 2-3 minutes per side until browned. Remove and place on top of zucchini and squash.
The Related Life is written and produced by Related Luxury Rentals. Be sure to follow us on Facebook, Twitter and Instagram for the latest events, news and announcements in your area, and tag us for a chance to be featured @therelatedlife and #therelatedlife.