Staying In: Slow-Roasted Salmon from Michael Lomonaco's Porter House Bar and Grill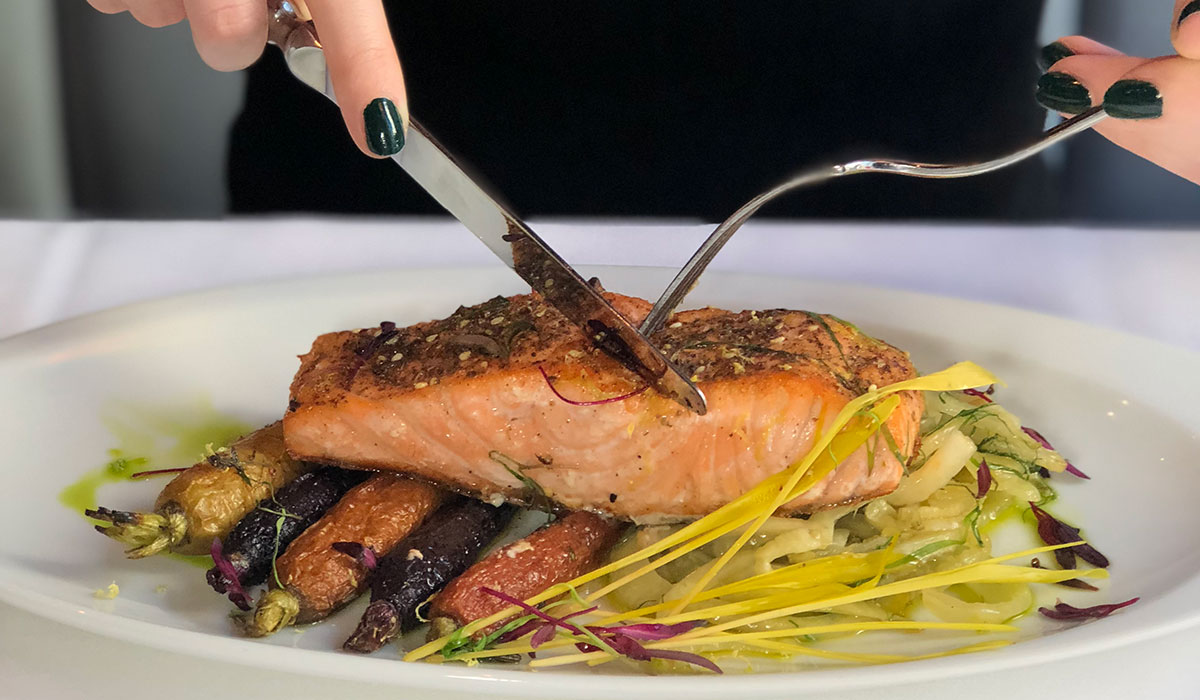 Though you may not feel comfortable dining in a restaurant right now, you can bring your favorite dishes home. Michael Lomonaco of Porter House Bar and Grill shared his incredible recipe for a slow-roasted salmon, with a Za-Atar-herb crust, fennel and zucchini that's perfect for a cozy evening in.
Not in the mood to cook? This recipe will be our featured dish from Related House Chef; Related residents in New York City should check out their weekly emails from House Chef to order.
Serves 4
Ingredients
∙ ¼ cup Za'atar
∙ 2 tablespoons each chopped chives and parsley
∙ ¼ cup olive oil
∙ 4 fresh salmon filets, 6–8-ounce portions, skin and all bones removed
∙ 1 cup San Marzano plum tomatoes, drained and crushed by hand
∙ 1 large fresh fennel bulb, thinly sliced on a mandolin or slicer
∙ 2 zucchini, cut into quarter inch rounds
∙ 2 garlic cloves
∙ salt and pepper
Directions
1) Combine the za'atar, chives, and parsley in flat dish.
2) Brush the top side of salmon filets in with olive oil
3) Dip the olive oil coated salmon in the za'atar
4) Combine the crushed tomatoes, fennel, and zucchini in a casserole large enough to hold the salmon filets
5) Place salmon on the bed of tomatoes and vegetables, and drizzle the remaining olive oil over the top of the salmon, season with salt and pepper
6) Put the casserole with the fish into a preheated, 350°F oven, and slow roast for 8 – 10 minutes, depending on the thickness of the filet.
7) Remove from the oven, serve immediately with some of the tomato, fennel, zucchini and pan juices.
The Related Life is written and produced by the Related Life Editorial Team. Be sure to follow us on Facebook and Instagram for the latest events, news and announcements in your area, and tag us for a chance to be featured @therelatedlife and #therelatedlife.