Staying In: Making Radicchio, Turnip & Spring Onion Tostadas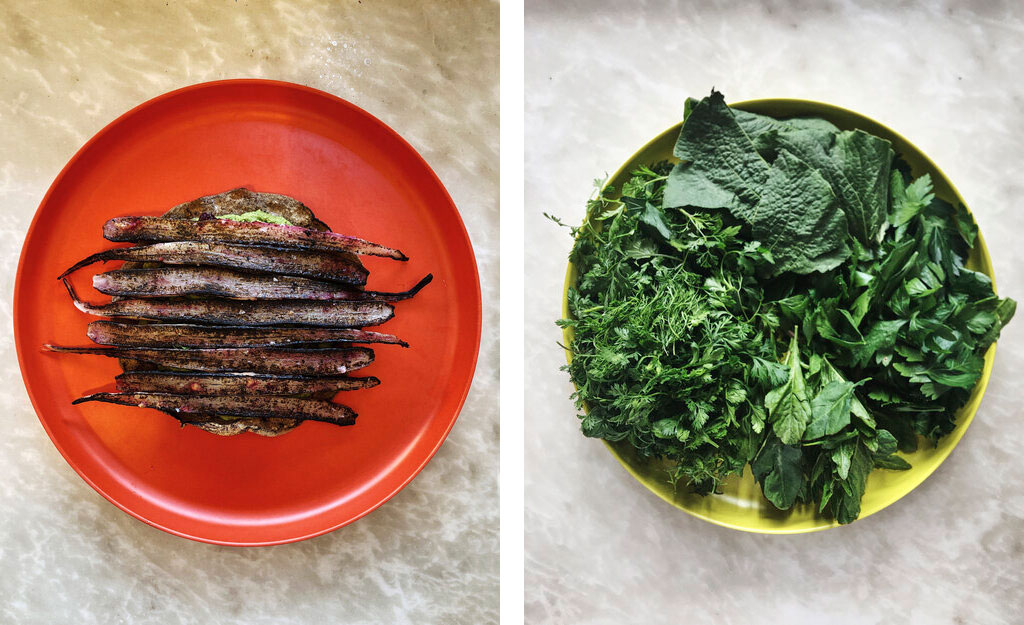 Spring is the time for finding recipes that take advantage of all the delicious seasonal fruits and vegetables that are available right now. This recipe from Natoora for tostadas comes to us from Alan Delgado, chef at the Michelin-starred Oxomoco in Greenpoint, Brooklyn. While there are quite a few more unusual ingredients on here, they are all super in season right now and can be ordered through Natoora's app. As a Related resident, you receive a special offer on your first Natoora order; check the Related Connect App for more details.
Ingredients
Spring Onion Salsa
∙ 4ea jalapeños
∙ 4ea tomatillos
∙ 1 head of garlic
∙ 12ea Spring onions (split greens from whites)
∙ 3ea Hinona kabu turnips
∙ 1/2 cup pistachios
∙ 1/2 cup pepitas
∙ 2 to 3 cups cilantro
∙ 1 cup parsley
∙ 1 cup epazote
∙ 1 cup hoja santa
∙ lime to taste
∙ salt to taste
Blood Orange Dressing
∙ 4ea Blood oranges
∙ 2ea Heirloom navel oranges
∙ 1ea Lime
∙ 1/4 cup Senia olio extra virgin
∙ 2 pinch maldon salt
Tostada & Toppings
∙ 1 pack Tostadas
∙ 1lb Butter
∙ 4ea Hinona kabu turnips
∙ 5ea Garlic clove
∙ 2T Fermented Habanada, Kimchi or some other type of ferment (this part is optional)
∙ 1 Serrano chilli
∙ 1 Puntarelle
∙ 1 Radicchio (Castelfranco or Rosa del Veneto)
∙ A few citrus of your liking - Oro Blanco/Blood Orange/Kumquats

Method
1) For the spring onion salsa you'll need a pot of boiling salted water, a container with ice water, a spider or slotted spoon, and a blender.
2) Blanch the herbs in the pot for 30 seconds then place in the ice water to cool down. Place all veggies in the water and blanch until the vegetables become tender then shock in the same ice water. Once the items are completely cold, remove from the ice water and strain.
3) While the vegetables and herbs are straining, turn your oven on to 350F. Place your pistachios and pepitas on a tray and toast in the oven until golden brown.
4) Combine all items in a blender and process until smooth (or leave chunky if that is what you prefer). Season with salt and lime juice.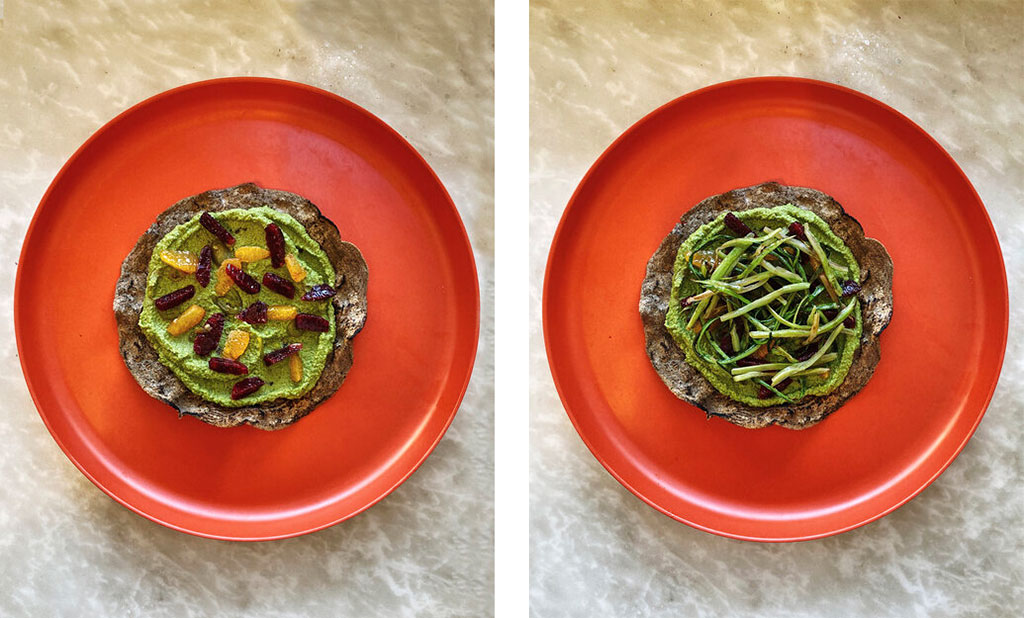 5) Now make the blood orange dressing, by combining all ingredients in a bowl and whisking.
6) To cook the Hinona Kabu Turnips, melt the butter with all ingredients except the turnips and bring to a boil. Once the butter begins to boil and it is infused with the rest of the ingredients, gently place the turnips in the pot to avoid splatter. Bring down to a simmer, cover with a lid and cook for 20 minutes. Check to make sure the turnips are tender. If not then continue to cook. Once cooked, allow the turnips to cool then cut in half and sear in a hot pan. Season with salt and a squeeze of fresh blood orange.
7) Now for the toppings. Take the puntarelle stems and pass through the puntarelle cutter, or slice very thinly. Char the slithers and the leaves in a hot pan, seasoning with lime and salt.
The rest is just assembling the ingredients on top in the following way, as seen in the images.
Tostada
Spring onion salsa
Slices of serrano
Segments of citrus
Charred puntarelle stems
Cilantro
Charred Hinona Kabu turnips
Radicchio tossed in blood orange dressing
Lime and a sprinkle of maldon salt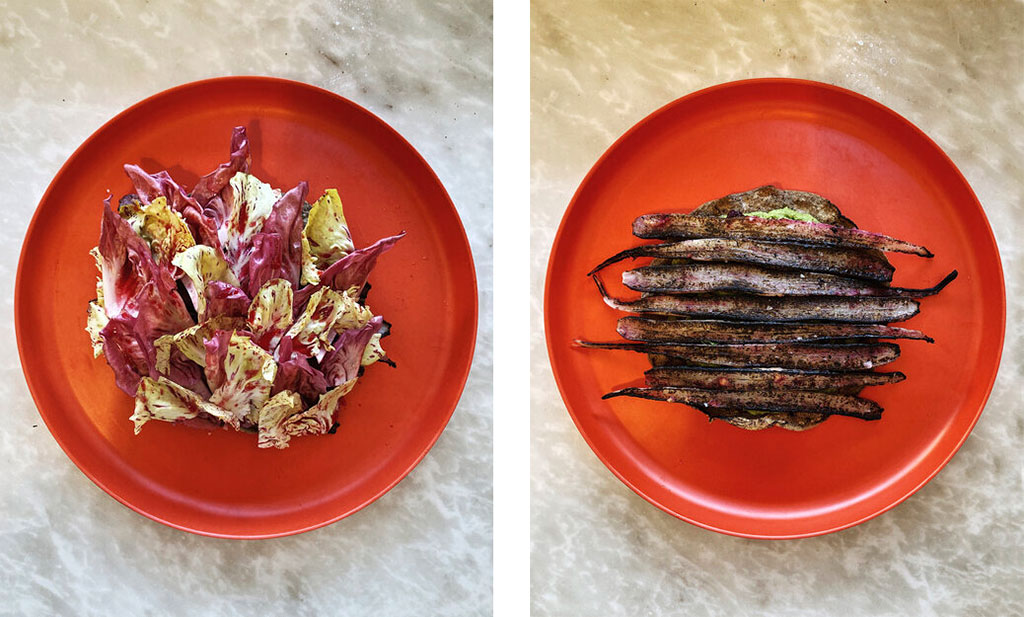 The Related Life is written and produced by the Related Life Editorial Team. Be sure to follow us on Facebook and Instagram for the latest events, news and announcements in your area, and tag us for a chance to be featured @therelatedlife and #therelatedlife.