Staying In: A Flavorful Carrot Cake Recipe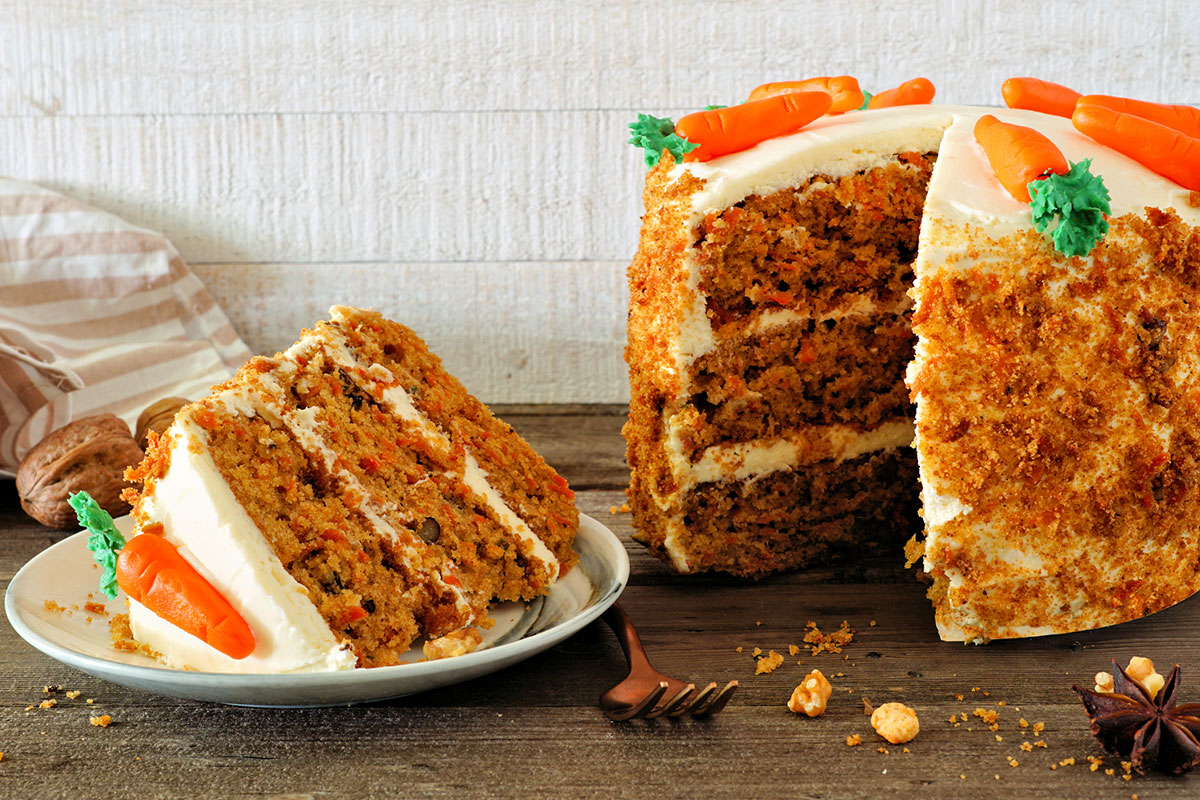 Our favorite way to eat our vegetables? In a cake of course – particularly, this carrot cake, which is brought to us by Mike's Organic grocery delivery. Chock full of carrots, walnuts and pecans and coated with a layer of rich cream cheese frosting, this cake will be welcome at any socially distanced potluck celebration you're attending.
Mike is delivering exclusively to Related residents in New York City; check the Related Connect App to find out if the delivery service is available in your building.
Ingredients
∙ 3 cups all-purpose flour
∙ 1 ½ tsp kosher salt
∙ 2 tsp baking soda
∙ 2 tsp cinnamon
∙ 2 cups granulated sugar
∙ 1 ½ cups vegetable oil
∙ 4 eggs
∙ 1 tsp pure vanilla extract
∙ 3 cups grated carrots
∙ ½ cup pecans, roughly chopped, plus more for garnish
∙ ½ cup walnuts, roughly chopped, plus more for garnish
∙ 1 cup raisins
Cream Cheese Frosting
∙ 8 oz block cream cheese, softened
∙ ½ cup butter, softened
∙ 1 tsp pure vanilla extract
∙ 4 cups powdered sugar
Directions
1. Set the oven rack to the middle shelf. Preheat oven to 350°F and grease 2 - 8" round cake pans with cooking spray. In a large bowl, whisk together flour, salt, baking soda, and cinnamon.
2. In a separate bowl with a hand mixer, or a stand mixer, beat together sugar and oil until well combined. Add eggs one at a time beating well after each addition, then add vanilla. Mix in dry ingredients until just combined. Stir in carrots, nuts, and raisins. Divide the batter evenly between prepared pans. Bake until a toothpick inserted into the middle comes out clean, about 45 minutes. Let the cake cool for about ,15 minutes then invert cakes onto a cooling rack and let cool completely.
3. Make frosting: In a large bowl, beat together cream cheese and butter until smooth. Add vanilla, powdered sugar and beat again until smooth. Frost cake as desired and garnish with pecans.
The Related Life is written and produced by the Related Life Editorial Team. Be sure to follow us on Facebook and Instagram for the latest events, news and announcements in your area, and tag us for a chance to be featured @therelatedlife and #therelatedlife.