Four Chicago Hotspots Sure to Satisfy Your Inner Foodie
As America's third-largest city, Chicago has something for everyone, and that's especially true when it comes to food. (Please, refrain from associating Chicago solely with deep-dish pizza.) Its multitude of dining options – from Michelin-starred eateries to revered street food carts – reflect the tapestry of diverse cultures that enrich life in this enterprising city. So it should come as no surprise that Chicago's food scene is regularly recognized by top food trades and top chefs, alike.
In salute of Chicago's food scene, The Related Life caught up Laura Goodman, former publisher of DiningOut Chicago and co-founder of the Dine-It-4Ward Culinary Guide. Keep reading for her recommendations on the top food experiences that deserve room on your plate.
Le Colonial
A veritable institution for Vietnamese food in Chicago, Le Colonial recently relocated to 57 East Oak Street. Its third-floor space includes bar and lounge, private chef's dining room and all-season terrace that looks out over downtown Chicago.
"Consistently delicious Vietnamese food in an atmosphere that literally takes you away from Chicago," Goodman exclaimed. "It's the perfect spot for lunch, dinner, or an afternoon light bite after a day of shopping on the Mag Mile. There is a reason it's been open for 20+ years!"
Tengoku Aburiya
A 2021 Michelin Star winner, Tengoku Aburiya is known for its authentic Japanese comfort food and grilled dishes. In fact, its name translates to "Grill Heaven." The restaurant is the latest concept by Chef Sangtae Park. It is located at 651 W. Washington Blvd.
"A little bit off the beaten path, this West Loop gem serves amazing authentic noodle dishes and sushi alongside classic izakaya skewers. It is the little-sister restaurant to Omakase Yume, a Michelin-starred Japanese restaurant that is right next door and also a not-to miss," said Goodman.
BLVD Steakhouse
Chicago's history as one of the world's meatpacking capitals has been well-documented over the years. BLVD Steakhouse casts a unique twist on this legacy, inspired by the glamor of 1950s Hollywood. Located at 817 W. Lake Street within the Fulton Market, this New American restaurant's ambiance and menu is not to be missed.
"I love the old-Hollywood vibe of this Chicago steakhouse," Goodman said. "Pair a classic Dirty Martini with any of their steaks and you won't be disappointed."
Firecakes Donuts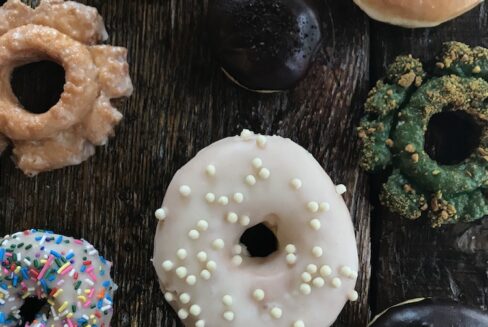 If you love donuts, then Firecakes is a must, according to Goodman. She advises sampling their classic glazed. The brand's donut recipe was inspired by northern Wisconsin baker William "Billy" Hobbs, who fed hungry loggers during the early 20th century. He was also the grandfather of founder Karen Fox, who has kept his recipe secret and still has his famous rounded dough cutter on display at the Hubbard Street shop. Firecakes operates four locations in Illinois, with two of those in Chicago.
The Related Life is written and produced by the Related Life Editorial Team. Be sure to follow us on Facebook and Instagram for the latest events, news and announcements in your area, and tag us for a chance to be featured @therelatedlife and #therelatedlife.