Chanukah Calling: Serve Up Latkes They'll Love
Latkes are one of the staples of Chanukah – these delicious fried potato pancakes pair perfectly not just with sweet sauces, like apple, but savory ones as well. Ahead of the major commemorative holiday, The Related Life contacted Israeli culinary powerhouse Miznon for advice on the perfect latke. What follows is a delicious holiday recipe by Chef Eyal Shani, complete with a pour-over garlic sauce recipe. Fry them up at home and enjoy!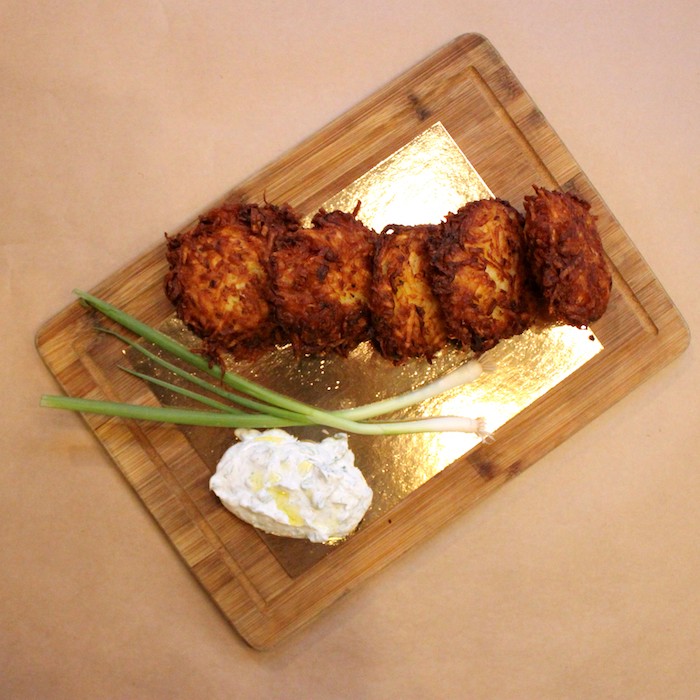 Miznon Latkes: Makes 10 latkes
Ingredients
•  3 large potatoes (preferably Yukon Gold)
•  1 small onion
•  1 tsp sea salt
•  2 eggs
•  Canola oil (or any neutral oil)
Directions
1.) Peel the potatoes and then grate them together with the onion.
2.) Mix in the salt and let the mixture stand for 30 minutes to allow it to release some moisture.
3.) Squeeze the mixture with your hands and pour out the excess liquid.
4.) Add both eggs and whisk everything together.
5.) Heat 1-2 inches of oil in a deep pan or skillet. Form mixture into plump latke patties and fry in oil until golden-brown on each side.
Run-over Sauce
Ingredients
•  2 cups sour cream
•  2 cloves garlic
•  5 green scallions
•  3 tablespoons chopped dill
•  1 teaspoon sea salt
Directions
1.)  Mix the sour cream well first, in order to make it creamy and fluffy.
2.)  Add the rest of the ingredients and whisk them all together. Adjust seasoning to taste.
If you don't feel like cooking, Miznon has four New York City locations: Chelsea Market, Hudson Yards, Swingers Crazy Golf, and The Hugh.
Miznon by Eyal Shani will be celebrating Hanukkah by offering Latkes in a Bag from December 16 until December 27, priced at $16 for 4. A limited supply will be offered each day at each location, so arrive early!
The Related Life is written and produced by the Related Life Editorial Team. Be sure to follow us on Facebook and Instagram for the latest events, news and announcements in your area, and tag us for a chance to be featured @therelatedlife and #therelatedlife.