Your 2022 Mother Day's Gift Guide
There's no doubt about it, Moms deserve the very best. They love, nurture, and accept us just as we are. This year's Mother's Day gift guide offers up suggestions to show just how much you care. These sweet moments, delightful treats, and fashionable finds for Mother's Day are provided courtesy of our Related Lifestyle Coordinators and our friends at Hudson Yards.
Keep reading for our Mother's Day gift ideas – and don't forget the card!
Tokens of Love
Mother's Day Gift Cards
These iconic card designs by LovePop will let Mom know she's a superstar. LovePop's latest batch of cards show the gratitude we feel for the moms who care for us and the beauty they bring to our lives. ($13+)
Mother's Day Sampler Pack
Give the Mom in your life the best of both worlds with a combo pack of two of our favorites. Enjoy two large classic banana puddings and two chocolate truffle 'Mom' cupcakes, two red velvet cupcakes, and two chocolate cupcakes with vanilla buttercream. ($65)
Mother's Day Chocolate Gift Box
This Chocolate Mother's Day Gift Box contains 20 delectable milk and dark chocolate confections, including Gourmet Truffles, Chocolate Fudge, Mocha Rolls, Mousse, Marzipan, Hazelnut, Raspberry Creams, Chocolate Tulips and Pansies, and a solid Chocolate Heart in the center. It's a sweet way to celebrate Mom's special day. Gluten-Free, Kosher-certified and handmade in Brooklyn. ($56)
Fleura Vase of Eternity Roses
The Fleura Vase combines Venus et Fleur's coveted Le Plein style arrangement in a gorgeous handcrafted ceramic Vessel. It's the perfect home decor item for year-round enjoyment. ($399)
Gifts & Fashions
D-Illusion Square Scarf
New this season, the D-Illusion square scarf reveals a print that embodies the collection's colorful pop universe. Crafted in pink and orange silk twill, the style features hand-rolled edges and is embellished with a 'Christian Dior' signature. The scarf can be tied at the neck or head to complete the Dior look. ($435)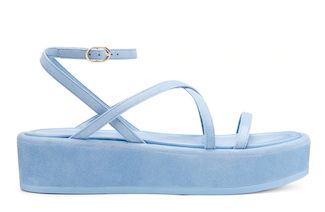 Summerlift Platform Sandal
The Summerlift Platform Sandal combines two of the season's hottest trends — the strappy sandal and the flatform — into one effortlessly elevated look. This monochromatic platform sandal is designed with crossover straps that frame the foot while also providing extra support, and its 45-mm flatform sole is engineered to give you a style boost without sacrificing comfort.​ ($295)
Lalique Crocodile Sculpture
Inspired by the fauna of the jungle, new wild animal sculptures have been added to the Lalique collection. The purity of the satin-finished and polished crystal, the brand's hallmark, contrasts with the powerful design of these symbols of strength and power. Functioning as sculptures, paperweights and smartphone or tablet-holders, the Crocodiles look like they are emerging from the water. ($1,150)
No. 3 Sativa Concrete Dome Diffuser
The No.3 Sativa Concrete Dome Diffuser is an aromatic set with natural lava rocks and a black powder-coated tree spike. Includes aromatic solution in Sativa. ($196)
Experiences
Rose Extract Anti-Aging Manicure
Let Mom bathe her hands in an anti-aging infusion of rose petals and hydrating coconut milk, followed by a gentle orange-peel scrub. A 10-minute rose essential oil aromatherapy massage will add to the relaxation. A cooling spritz of rose water mist and a perfect nail polish rounds out this luxe experience. ($49)
Brunch with Mom
A restaurant, kitchen and bar from D&D London with a menu that focuses on British cooking but features influences from both sides of the Atlantic. The perfect spot for a light lunch, after-work drink, or cozy dinner in the Dining Room. Hours: Saturday-Sunday 11:00am-3:00pm
The Ultimate Anti-Aging + Lifting Facial by Biologique
The signature 120-minute facial by Biologique Recherche is only available at Equinox Hotel, New York. Get red carpet ready and take years off your face with this customized tech facial. Treatment includes: the remodeling face machine; micro-puncture; second peau hyaluronic treatment; and a collagen finishing mask. This facial addresses loss of volume, diminishes facial hollows and boosts cellular regeneration. ($625)
Thanks again to to our friends at Hudson Yards, and to our Related Lifestyle Coordinators, for helping us curate such a fabulous gift list!
The Related Life is written and produced by the Related Life Editorial Team. Be sure to follow us on Facebook and Instagram for the latest events, news and announcements in your area, and tag us for a chance to be featured @therelatedlife and #therelatedlife.