Set the Table for Turkey Day with these Festive Thanksgiving Crafts
An arts & crafts session can be one of the best ways to pass the time while waiting to dig into your Thanksgiving meal! In the spirit of the holiday, these activities give you precious bonding time while keeping young ones busy. For fresh ideas on Thanksgiving-themed crafting activities, The Related Life spoke with Lindsey Peers, founder of The Craft Studio. Keep reading for her latest recommendations.
"Thanksgiving allows us to take a pause and reflect on all we have," Lindsey explains. "Leading up to the winter holidays, Thanksgiving instills gratitude in littles before the frenzy of gift-giving and receiving. This  holidays is an excellent way to set the tone that we already have many things in our lives to be grateful for that are for more important than a present."
One of the first recommendations is pulling the family together to create a Thankful Box.
Thankful Box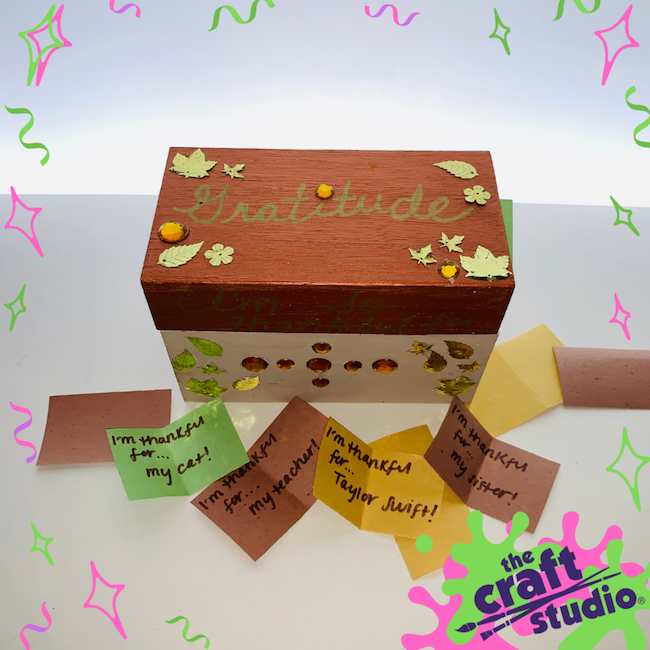 "One way to help teach your kids about gratitude is as a family to talk about the things in life you are grateful for," says Lindsey. "I love having a box at my table all November, where my kids at dinner time can write down one thing each day leading up to the holiday that they are grateful for. If this month-long commitment is too much, this is a great activity to do on Thanksgiving Day with guests around your table. No matter how many slips of gratitude end up in your box, reading them out loud during Thanksgiving dinner is such a beautiful way to enforce how much we all truly have in our lives."
You can use an old vase, or decorate a shoe box, or purchase a Thankful Box Kit from The Craft Studio.
Themed Place Card Holders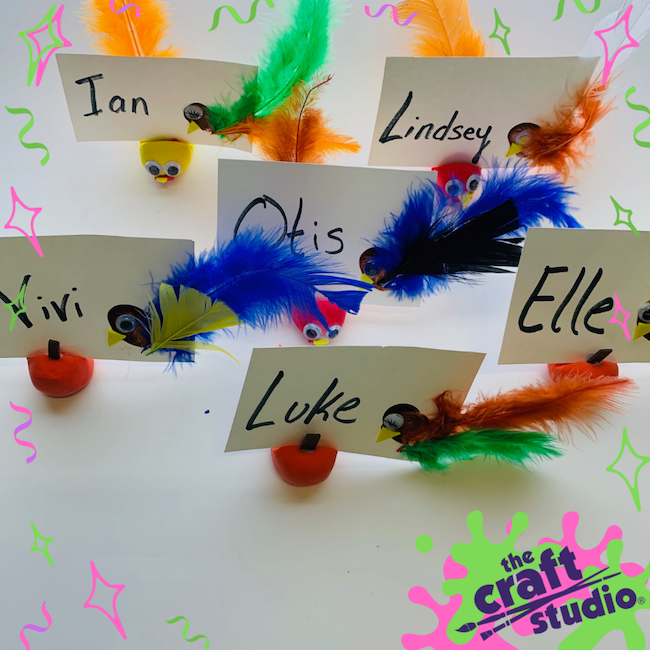 Wrangle some extra hands, even if they are little ones, to set the table for your memorable meal! Creating custom place card holders is a fun and stress-free outlet for kids to participate in holiday setup.
"It is easier than you think to create adorable DIY place card holders," says Lindsey. "We love making clay pumpkins out of a simple ball shape with a short squatty stem and then pressing in a card stock card to make a slot for a place card. The same ball shape with feathers poked in, glued-on google eyes and foam beaks make adorable turkey place card holders!"
Adults like this craft just as much as the little nuggets, Lindsey quips. Check out the DIY Thanksgiving Place Card Holder kit here.
And while they're decorating the table, encourage them to make their own activity place mats! Simply cut craft paper rectangles into place mats, then print out coloring images, tic tac toe boards, or a word scramble. Use a glue stick to affix these to the paper mats. A sure way to keep them busy and happy during meal service.
Turkey Party Hats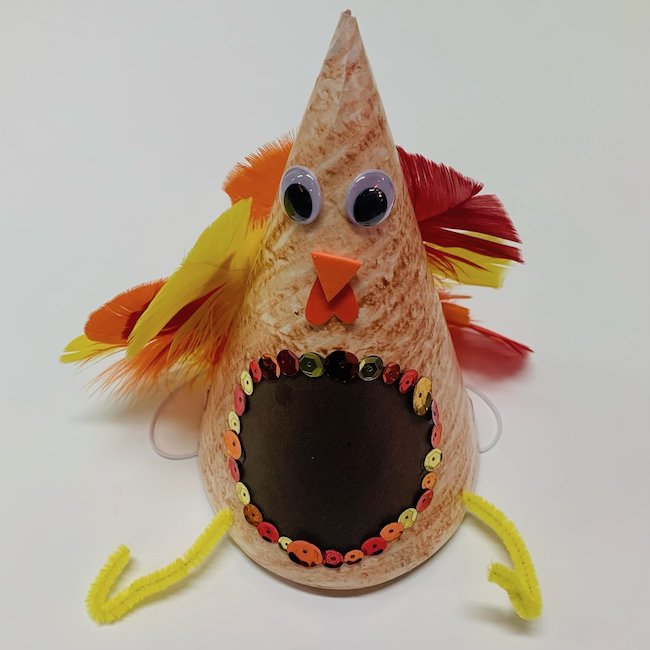 "We love laughs at the Thanksgiving table…what could be more funny than guests making and wearing their own turkey party hats! Even adults will see their inner child comes out to play for this one," Lindsey intones.
The Craft Studio's Turkey Party Hat kit comes with everything you need, including feathers, google eyes and foam shapes.
See the Turkey Party Hat kit here.
DIY Turkey Bag
As a final recommendation, Lindsey suggests having a "Turkey Bag" decorating station near the table. Little ones can head to the station after dinner, but be close enough for adults to supervise. There they can glue feathers, google eyes, and construction paper shapes onto paper bags recycled from grocery shopping to use for taking home leftovers.
The Related Life is written and produced by the Related Life Editorial Team. Be sure to follow us on Facebook and Instagram for the latest events, news and announcements in your area, and tag us for a chance to be featured @therelatedlife and #therelatedlife.