March into Spring with These Cute Holiday Crafts
It's time for a Spring awakening! The warming season brings plenty of opportunities for bonding as we celebrate holidays like Passover, Easter and St. Patty's Day. The Related Life recently contacted Lindsey Peers, founder of The Craft Studio, to pull fresh new ideas around Springtime family fun. Keep reading for her recommendations!
"There is so much to celebrate and so much to be inspired by in the Spring. Kids are hitting their indoor play threshold, longing for sunshine, bubbles, extended playground time and fewer layers," explains Lindsey. "With a new twist on creativity and these fun Spring seasonal activities, they will soon forget the long winter blues and look forward to sunny spring skies."
A Springtime Bouquet: Tissue Paper Flowers
Lindsey's first recommendation heralds the rebirth of the season -- it's all about flowers. "Giant tissue paper flowers can make a beautiful display," she says. "They last forever, you don't have to change the water, and they are made with creative simplicity!"
The Craft Studio's kit includes all materials and straight-forward directions for gorgeous tissue flowers. You can craft them to create whimsical decor for your home or to give as a Spring gift.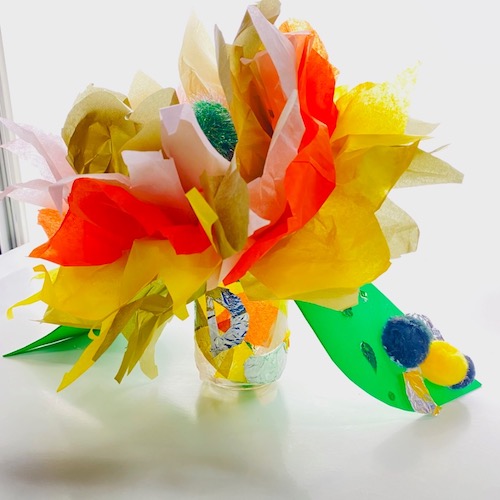 St. Patty's Day
Pot of Gold Canvas
"I love a craft that can then be a decoration," says Lindsey. "Our Pot of Gold canvas kit is perfect to get in the spirit of this lucky holiday."
Featuring easy directions, The Craft Studio's kit has all the pieces needed to get young artists excited about showing off their St. Patty's visions! While the initial techniques recommended are simple enough for younger crafters, there are also advanced suggestions in case the grown-ups would like to participate.

Pot of Gold Desserts
Lindsey says one of her favorite ways to entertain kids is an interactive dessert, since it's a crowd-pleaser that just needs a grocery store trip to make happen. "For these Rainbow Pot of Gold Donuts and Pot of Gold Cake Pops, I purchased the boxed chocolate-covered donut holes and mini donuts from the supermarket," she says. "Place a lollipop stick in the donut holes, then add icing on top."
Decorate further with gold sprinkles, and they automatically mimic pots of gold. To create the rainbow pots, add white icing to the middle of each donut using a spatula. Then pipe rainbow icing (or colors like red/yellow/blue) along the side.
If you're setting up a station, display a few finished desserts to inspire guests to create their own treats.

Passover
Matzah House Kit
"Passover is rich in tradition, and engaging the youngest members of your family is easier thank you think," Lindsey exclaims.
She recommends a friendly Matzah house-building competition that splits family and guests into teams. Set at timer and see who can build the best Matzah house! The Craft Studio's kit is pre-packed with delicious kosher goodies and easy-to-follow directions.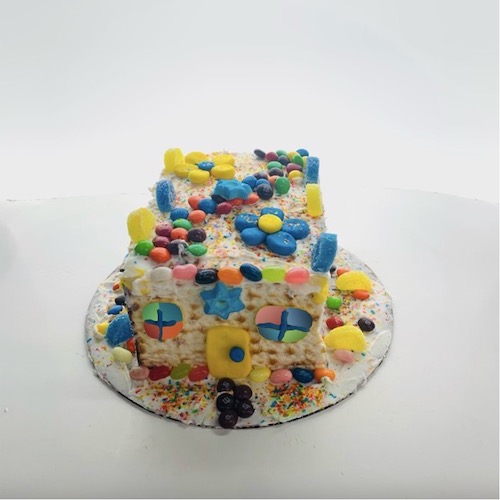 Moses Table Runner
"The story of Moses parting the Red Sea to lead the Israelites out of Egypt is a Passover story told for generations. Have kids help set an interactive table scene to bring this image to life," notes Lindsey.
To symbolize the parting of the sea, place a burlap or craft paper runner across the table. Then twist white and blue shades of tissue paper together, and place these pieces on either side of the runner.
To symbolize Moses and the people he is guiding, add wooden doll pieces, wooden clothespins, or unfinished wooden game pieces. Glue a brown pipe cleaner or piece of a wood stick to the leading figure, showing Moses and his staff that parted the sea.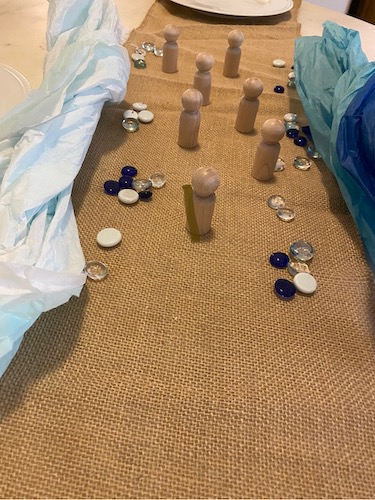 Easter
Egg Shell Planters
If you happen to be making a pancake breakfast for Easter, don't throw out those egg shells! Lindsey uses them to make themed centerpieces for her family. Crack a few eggs carefully, so that the bottom two-thirds of the egg shell are still intact. Then, rinse out the shells and let them dry.
Says Lindsey, "I got lucky on the last one, and had both the top and bottom pieces fully intact! I spied some yellow flowers and clipped one, wrapping a damp paper towel around the stem. Then, I placed it in an egg for the cutest little Easter-inspired bud vase!"
If you have both pieces intact, another option is creating a baby chick! Add fluffy pom-poms inside, google eyes and a triangle beak made of leftover craft scraps, plus two feathers along the side. Finally, add a bit of tacky glue to the top shell, and put it on the top of the pom pom.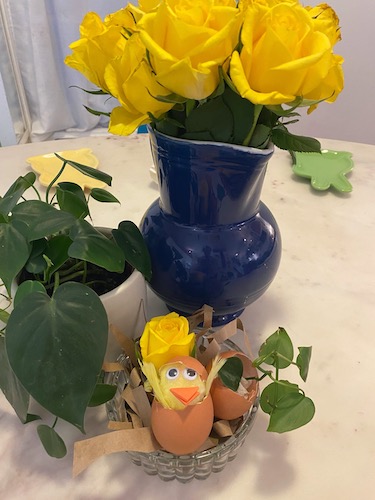 Bunny Napkins
"These easy-to-fold, festive napkins can bring special sweetness to your Easter table," Lindsey exclaims.
First, roll up your napkin to make a long tube shape. Fold it in half and twist a pink pipe cleaner around the middle, leaving about two inches of a bunny head on the bottom. Then, bend the excess pink pipe cleaners upward to become the pink middle of the bunny ears.
Afterward, cut a white pipe cleaner in half. Twist both pieces around the middle to be whiskers. Glue a pink pom pom with tacky glue, a glue dot, or hot glue to the pipe cleaners, finishing the look!
Now, all guests have to do to access their napkin is untwist the pipe cleaners.
"What makes for even more fun is filling the napkin with a few pieces of candy as a surprise treat for guests to unroll," Lindsey adds. "We recommend nothing chocolatey that could melt."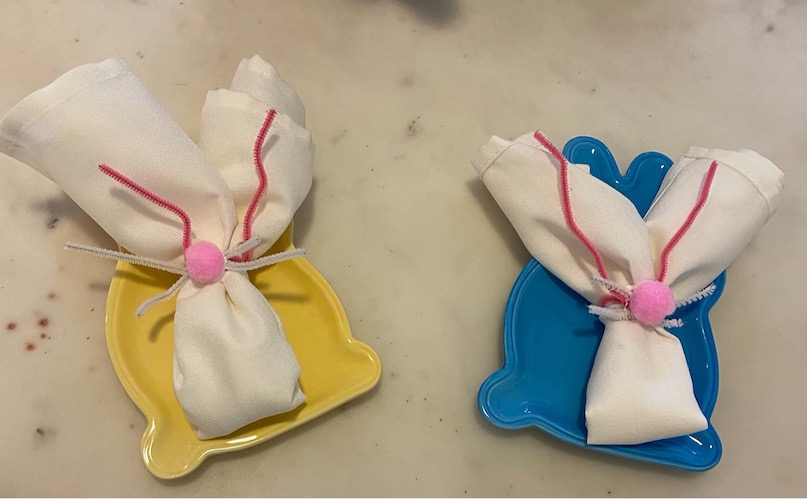 The Related Life is written and produced by the Related Life Editorial Team. Be sure to follow us on Facebook and Instagram for the latest events, news and announcements in your area, and tag us for a chance to be featured @therelatedlife and #therelatedlife.