The #MyRelatedStyle July Feature: Boho Meets Modern at 500 Lake Shore Drive
Sunrita Sen, a resident of our stunning Chicago waterfront property 500 Lake Shore Drive, says that she and husband Jinit instantly fell in love with how seamlessly their home brings the outdoors inside. Sunrita's stunning interior styling – and ability to blend her and Jinit's individual aesthetics so harmoniously – made her a shoe-in for the #MyRelatedStyle July feature. Keep reading to see the beauty and creativity of Sunrita's home.
"I knew immediately that the decor needed to be organic and neutral to best compliment the bright blue hues of Lake Michigan," she explains. "Both my husband, Jinit, and I grew up overseas. You will see a lot of our homes (in India and Kenya, respectively) reflected in the art and decor pieces we've chosen for our apartment. Jinit and I have different yet similar design aesthetics. We both like clean lines and neutral colors – but his style leans more modern, while mine leans more organic and boho."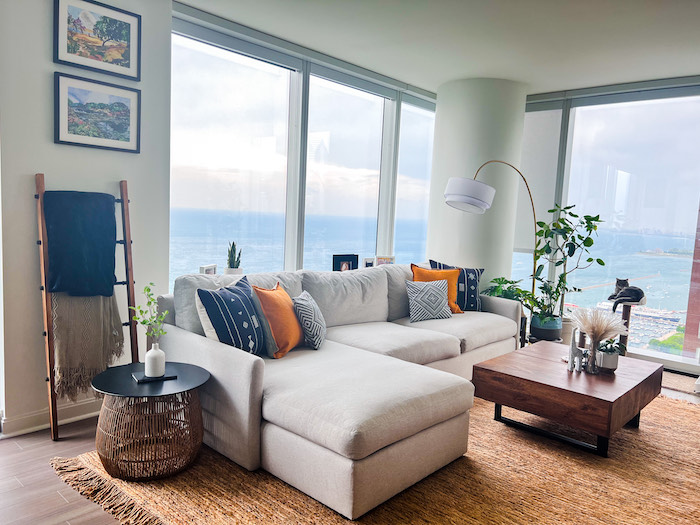 A gorgeous cream sectional with overhanging brass pendant light marries perfectly with the natural woods. The living area is welcoming and inspiring.
"You'll see a blend of both styles with a bold and modern light fixture and marble table in the dining room but a warm jute rug and walnut coffee table in the living room," she notes. "The vision was to create an inviting and cozy space that does not take away from the jaw-dropping views of Lake Michigan that we're lucky to have!"
Sunrita's favorite three decor items are the jute rug, walnut coffee table, and wall-mounted bookshelves in the living room, all of which she says "spark joy" within the residence.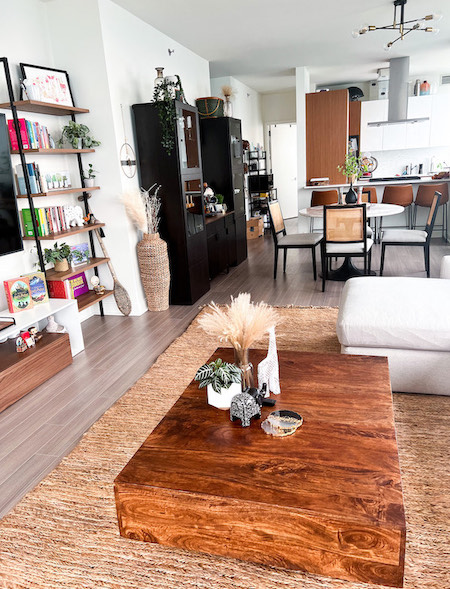 "All three elements tie the space together while blending my husband and my design styles nicely," Sunrita adds. "The other things I love, but am fairly poor at keeping alive, are my plants. We lost a number during our move, but we're slowly rebuilding. The beautiful southeastern light we get is helping my babies come back to life. You might also see our gorgeous cat hanging out in some of the photos and she definitely helps spruce up our place and our hearts!"
Another thoughtful design concept is the preservation of sight lines throughout the residence; there is a symmetry to furniture heights paired with playfulness of depth.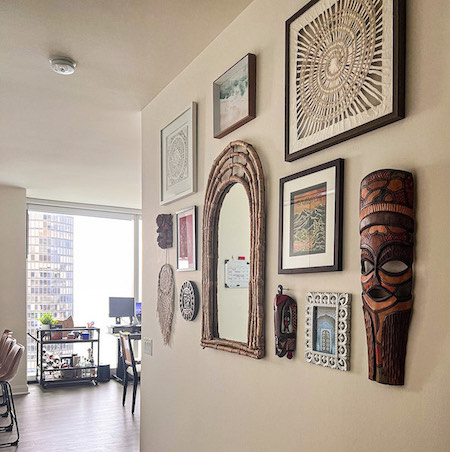 Striking cultural artwork along the wall pulls you deeper into the residence.
Sunrita tells us that she became absorbed in interior design during the pandemic, using the time to experiment with different styles in her home.
"Like many people, the pandemic turned out to be an instructional time in our lives," she says. "With not much else to do, we binge-watched an embarrassing amount of HGTV and began trying our hand at DIYing and styling. It's been wonderful to finally put all of that to good use on a blank canvas that is as beautiful as our residence at 500 Lake Shore Drive."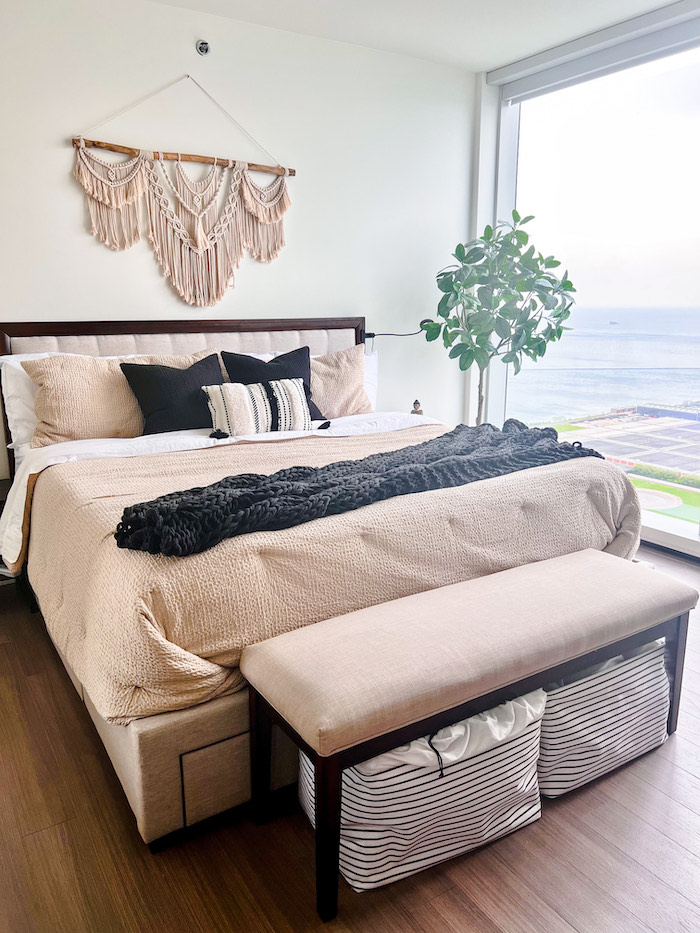 A heartfelt Thank-You to Sunrita for submitting her residence to #MyRelatedStyle, our community celebrating inspired spaces.
Check back in August for our next featured residence!
The Related Life is written and produced by the Related Life Editorial Team. Be sure to follow us on Facebook and Instagram for the latest events, news and announcements in your area, and tag us for a chance to be featured @therelatedlife and #therelatedlife.