Non-Toxic (But Super Effective) Cleaning Methods for Your Home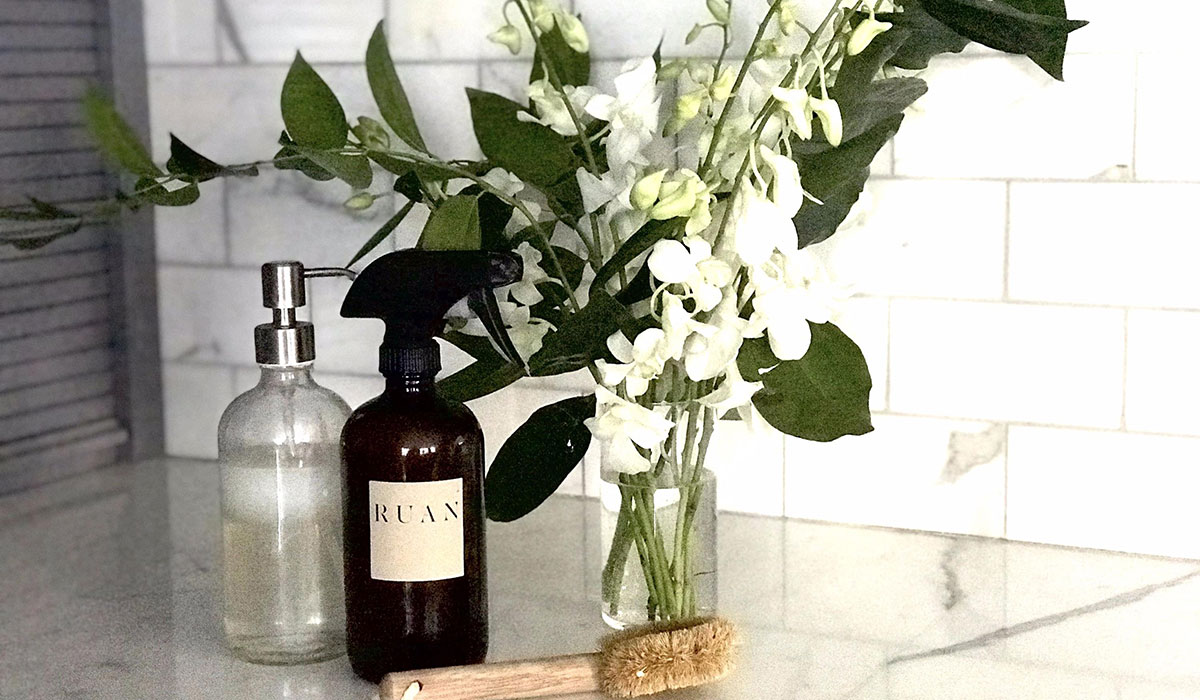 We're all cleaning and disinfecting our homes a lot more these days, but what exactly are we cleaning with?
It's a question that author and healthy living expert Sophia Ruan Gushée realizes most people aren't really considering. But given that many disinfectants and cleaning products have toxic ingredients, which have not been sufficiently tested for safety, it might be one that's worth thinking about.
If you are interested in cleaning using non-toxic methods, Sophia shared her recipes for common household cleaning products that are easy to make and budget friendly.
(Note: For those at a higher risk for COVID-19, more toxic products might be right for you. For others, avoiding toxicity in cleaning products may be a higher priority. We recommend you talk to your doctor and consult the recommendations of the CDC to find out what you should be using).
For more detox tips and advice about other household uses for the ingredients below from Sophia, check out her Nontoxic Cleaning Sheet here, which will automatically sign you up for her newsletter.

Multipurpose cleaner
A great general cleaner, this recipe should be safe on all surfaces, however there are always exceptions so test a small area.
You'll need:
• 1/4 cup (60mL) Castile soap
• 1 quart (1L) water
• Optional: essential oils
3% Hydrogen Peroxide
A great disinfectant and deodorizer, hydrogen peroxide behaves like bleach. It can be great to use for disinfecting cutting boards, refrigerator interiors, dishwasher interior, fighting stains on white fabrics, and even soaking veggies and fruit to clean residue (use a diluted amount)
White Vinegar
Another great disinfectant and deodorizer, you can use white vinegar to clean the inside of refrigerators, sinks, toilets, carpet stains, inside kitchen cabinets, and cutting boards. Note: do NOT use on natural stones, like marble and granite. Always test a small area to make sure this cleaning recipe won't damage the materials that you will clean.
You'll need:
• 1/4 cup white vinegar
• 1 1/4 cups water
• Optional: essential oils
Laundry Detergent
You can make your own incredibly effective detergent at home with these simple ingredients. For anyone using a high-efficiency washer (as all Related washer dryers are), you can halve these amounts.
You'll need:
• 1/3 - 1/2 cup (80-120 mL) Castile soap for a large load in a regular washer
• Add 1 cup (240 mL) vinegar to the rinse cycle
• For extra whitening and deodorizing, add 1/2 cup (120 mL). Baking soda to wash cycle.
Watch Sophia explain more about cleaning mindfully, below.
The Related Life is written and produced by Related Luxury Rentals. Be sure to follow us on Facebook, Twitter and Instagram for the latest events, news and announcements in your area, and tag us for a chance to be featured @therelatedlife and #therelatedlife.