Staying In: Warm Your House (and Your Bellies) with These Spicy Gingerbread Cookies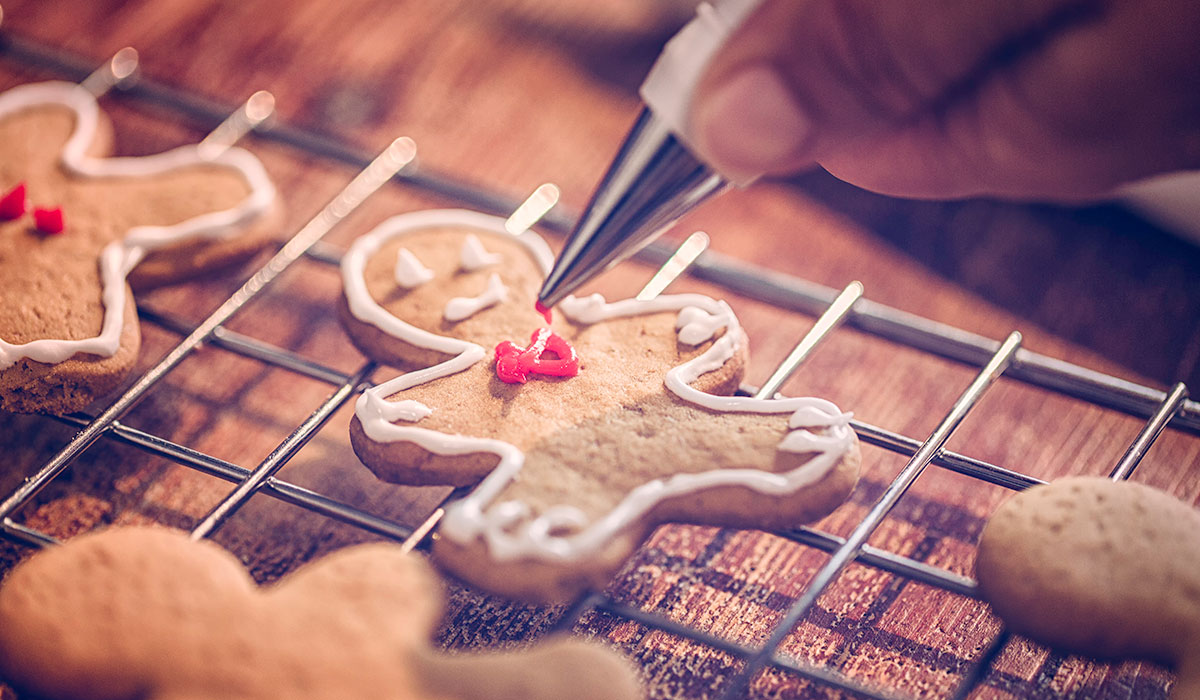 Nothing warms a house around the holidays better than the smell of warm gingerbread cookies baking in the oven. And now that we're all spending more time at home, it's the perfect excuse to settle in and bake this tasty treat. For a gingerbread recipe with an extra special kick, we turned to Chef David Kirschner of dineDK. Chef David led a baking demo of the cookies exclusively for Related residents; watch it at the link below.
Yield: 9-12 cookies
Ingredients
∙ 1 sticks ( 4 oz) unsalted butter, cold and cut into small cubes
∙ 1 ¼ cups (10 oz) lightly packed dark brown sugar
∙ 1 large eggs, cold
∙ ¼ tsp kosher salt
∙ ½ tablespoon ground ginger
∙ 1 teaspoon ground cinnamon
∙ 1 tablespoons fresh thyme leaves
DK Hearth Spice: Optional, but recommended
∙ ¼ teaspoon ground clove
∙ ¼ teaspoon allspice
∙ ¼ teaspoon urfa biber chile (not spicy, fruit and smokey)
∙ 2 cups (8 ½ oz) all-purpose flour
Directions
1. Preheat your oven to 350 F. Line a half sheet pan with parchment paper or a silicon mat and set aside.
2. Put the cold cubed butter and brown sugar in the bowl of a stand mixer fitted with a paddle attachment, or in a large bowl with a hand mixer. Mix the butter and sugar on medium speed for about 3 minutes, until well combined. It won't really be creamed. Scrape down the sides and bottom of the bowl with a rubber spatula.
3. Add the egg, salt, ginger, cinnamon, and 1 ½ teaspoons DK Hearth Spice (if using) to the bowl. Mix for 1 minute more on medium speed until all the ingredients are incorporated. Scrape down the bowl again.
4. With the mixer running on low speed, slowly add the flour into the bowl. Mix just until combined. This will be a very thick dough, and you may need to knead it gently with your hands until it comes together.
5. Gather the dough together into a ball. Lightly flour a clean work surface and the top of the dough and a rolling pin. Roll out to about ¼"-⅓" thick. Thicker will produce softer cookies and thinner will produce crispier cookies. Alternatively, you can roll the dough between 2 pieces of parchment paper.
6. Cut out your cookies and place them on a parchment or silicone mat lined baking sheet.
7. Bake at 350 F for 9-12 minutes. I like my cookies cut out ⅓" thick and baked for about 10 minutes. This produces cookies with slightly crispy edges and soft centers. Longer baking times will produce crispier cookies.
8. If you are decorating the cookies with candies and sprinkles, press the sprinkles into the cookies when they are still hot. If you are frosting the cookies, allow them to cool completely first. Store cooled cookies in an airtight container at room temperature for up to 5 days.
Watch Chef David make them at the link below.
The Related Life is written and produced by the Related Life Editorial Team. Be sure to follow us on Facebook and Instagram for the latest events, news and announcements in your area, and tag us for a chance to be featured @therelatedlife and #therelatedlife.