A Night of Japanese Talent and Tastes for Atlas Club Residents at High Line Nine
The beautifully bright and grand main gallery of High Line Nine made the perfect backdrop for experiencing the thought-provoking, transformative works of Japanese-American contemporary artist Makoto Fujimura. His exhibition "Re-membrance" explores the concept of beauty evolving from trauma. Along the walls, five expansive works bared their metaphysical messages to the room, part of a private gallery experience and curated sake tasting organized for Atlas Club.
Related Rentals residents mingled and gathered in anticipation of an intimate evening, spent diving into transcendental works and tasting a handful of select sakes sourced from Japan's foothills, mountains and islands.

Up Close & Personal with Slow Art
Fujimura's Slow Art style, covered extensively in an earlier story by The Related Life, is all about taking time to really absorb a piece of art.
"Meditative and energizing, Mako's Slow Art reveals more over time and encourages everyone to have a deeper experience," explained Blake Griffey, who led the lecture for High Line Nine. The pieces shown in 'Re-membrance' commemorate traumatic moments in the world's history, including the Columbine massacre, the 9/11 attacks and the 2011 earthquake and tsunami in Japan.
"If you really spend some time staring at these works, they will transform in front of your eyes. You will see shapes, forms and colors that weren't there when you first looked. It is a pretty amazing thing," said Griffey, encouraging our guests to experience the painting from all distances and angles.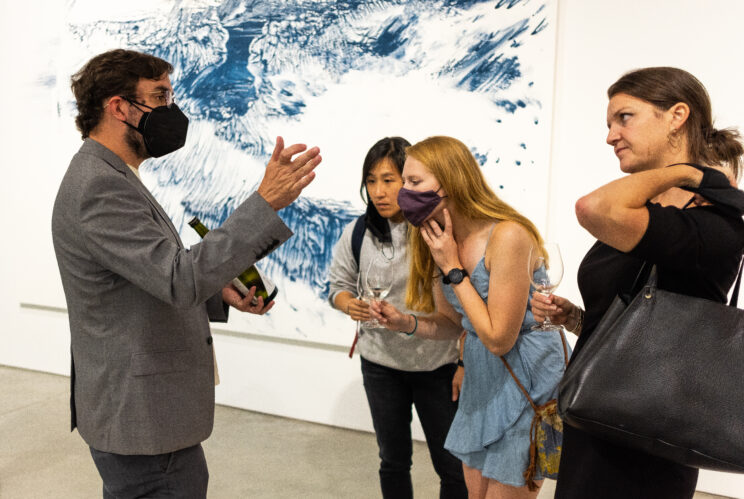 Residents spent some time getting up close and personal to Fujimura's paintings, studying the myriad layers of ground precious stones and metals (including gold and silver) used in the creative process. Then, it was time to pour the sake.
A Sake Journey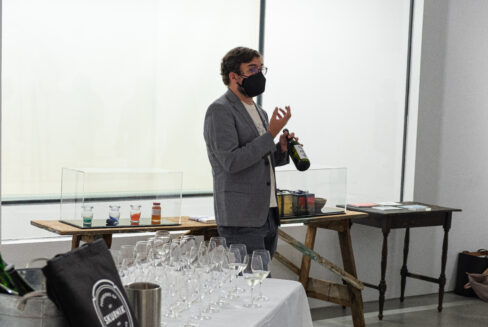 Jamie Graves, Japan Portfolio Manager for New York-based wine and spirits distributor Skurnik Wines, took the floor as the evening's expert sommelier.
Graves is an award-winning sommelier with more than 20 years' experience in Japanese cuisine. His accolades include winning Judge's Choice at the International Sake Sommelier Competition in Tokyo and recently being named to Wine Enthusiast's Forty Under Forty list of beverage professionals to watch.
"There's a saying in Japanese that 'sake doesn't get into fights with food,'" said Graves. "Sake has much less acid than wine, so it won't clash with food. Instead, it forms a background to flavor. Compare it to changing the background of a wall that a painting is on, and how that brings out different aspects of the painting," he noted.
Although it drinks like a wine, having a 15-16% alcohol by volume, sake is a fermented spirit and therefore more similar to beer. And while sake's thousand-years legacy has traditionally associated it with old-world connotations, a younger audience and industry in Japan is making sake bars hip again. Sake bars are being tied to the artisanal trend, Graves said.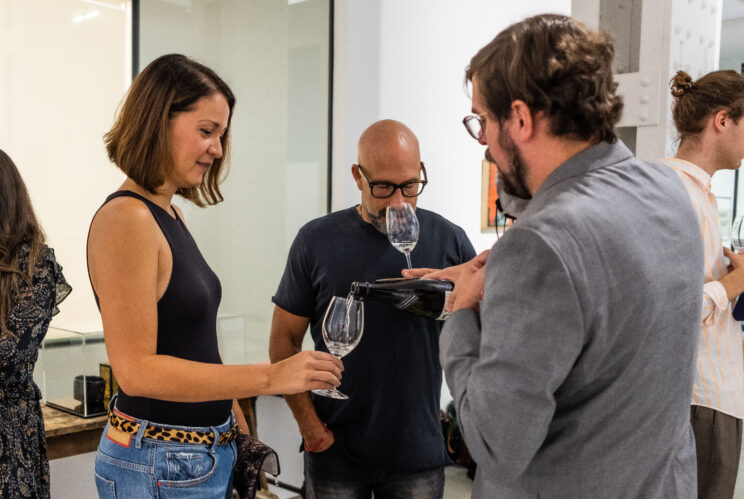 Take a quick look below at the four sakes tasted by Atlas Club:
A light bodied, delicate and extremely supple sake made in snowy mountains of Miyagi in Northern Japan. Priced around $29 for a 720ml bottle.
A medium bodied and supple sake with a silken texture and bright notes of anise and pear. The brewery is nestled in the misty foothills of Mt. Hotaka. Priced around $29 for a 720ml bottle.
A brash, wild and vibrant sake that has gained a lot of attention from sake connoisseurs. While the Yamamoto family has been making family for over 300 years, this sake is bright and modern, with a lively effervescence, bold notes of tart green apple and fresh berries. Priced around $18 for a 720ml bottle.
Azumaichi hails from the deep southern island of Kyushu, known for its bold cuisine with sauces and flavors richer than the rest of the country. This sake is a particularly elegant example of Kyushu style sake: rich, savory with notes of hazelnuts and cacao, and a beautiful match for the hearty dishes of the south. Priced at around $27 for a 720ml bottle.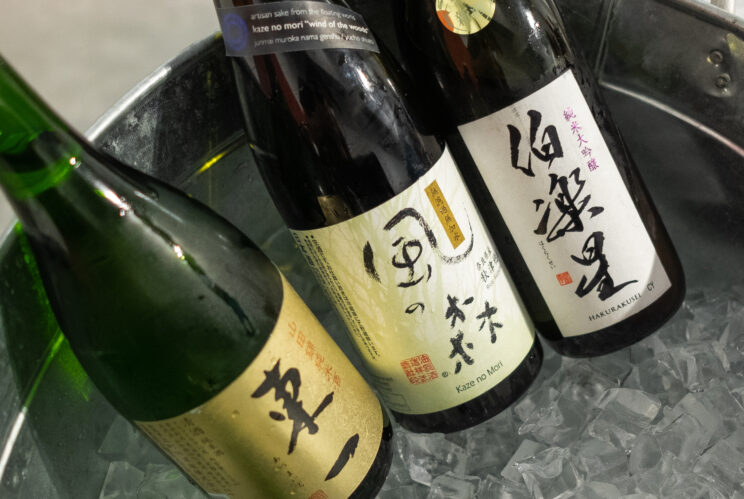 As the evening wound to a close, our guests departed this latest Atlas Club experience with not just a happy buzz, but also more knowledge around specific art styles and sakes that will surely make for more great conversation.
Learn more about the diverse exhibitions and educational programming at High Line Nine by visiting https://highlinenine.com/.
The Related Life is written and produced by the Related Life Editorial Team. Be sure to follow us on Facebook and Instagram for the latest events, news and announcements in your area, and tag us for a chance to be featured @therelatedlife and #therelatedlife.