Pouring Out for Our Residents on IPA Day
When the first Thursday of August rolled around, so did another summer milestone -- it was time for IPA Day! Widely considered the king of craft beers, the India Pale Ale is extremely popular for its light, hop-forward flavor. To celebrate IPA Day, Related Life hosted a courtyard party at Abington House for residents, with brews, bites and games in partnership with Anheuser-Busch and Dickson's Farmstand.
Although this style of craft beer has been popular for the past decade, its has seen a big spike in interest in recent years. In fact, recent research by Drizly found that IPAs accounted for 19% of its total beer sales in 2020, ranking as the second-most popular category after hard seltzer.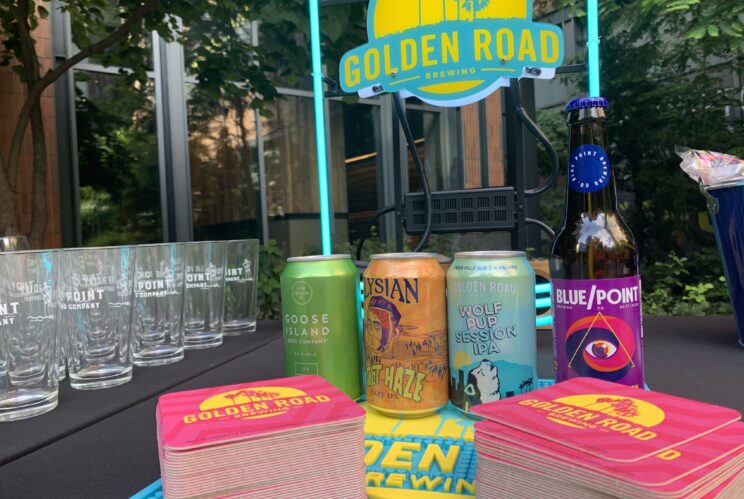 For our Hudson Yards-area event, Anheuser-Busch provided four popular IPAs that allowed residents to experience a range of flavors in season this summer, from brewers across the country: Goose Island IPA; Elysian Brewing Contact Haze; Golden Road Wolf Pup Session IPA; and Blue Point Hoptical Illusion. And in a perfect pairing, Dickson's Farmstand treated our residents to some light bbq, including their famous sausages and chicken meatballs.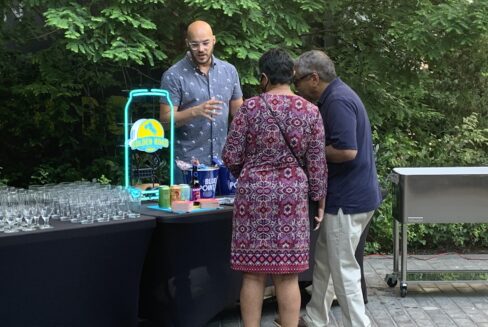 Bringing our residents together to connect with their neighbors and make the most of our amenities is always a focus of The Related Life. It's also fun when there's a chance to learn something new. For a rundown of the IPAs on offer and a quick history lesson, we caught up with Doug Cedrone, emerging markets manager at Anheuser-Busch, who was our resident brewmaster for the day. (He also happens to be co-owner of Beer Noggin, a craft beer bar in Bronxville, New York.)

Goose Island IPA
Goose Island is Chicago-based brewer and its IPA represents a classic style similar to an east coast IPA, "which tends to be a little bit more well-balanced between piney and maltiness. You can really taste the the grains in there, with a piney resinous character and notes of citrus peel," said Cedrone. The Goose Island IPA is a very versatile option for foods, from burgers and fries to pizza, and pours as a light amber/dark golden color.
Elysian Brewing Contact Haze
Out of Seattle comes Elysian Brewing. Its Contact Haze is a hazy IPA, meaning it pours with a cloudiness to it. "Hazy IPAs are on fire right now, they are the big thing exploding in the IPA category," said Cedrone. "Some are more opaque than others. Contact Haze is not as heavy, not completely turbid but more translucent."
Golden Road Wolf Pup Session IPA
"As a Session IPA, it's a type of IPA that is lower in alcohol with 4.5%. It packs the same amount of flavor and punch but in a lighter-bodied form. This one has a really fresh citrus pop," said Cedrone. Golden Road is based out of Los Angeles.
Blue Point Hoptical lllusion
Selected as the New York local brewery, Blue Point hails from the Long Island town of Patchogue. With 7% alcohol by volume, it was the strongest of the roundup. "Hoptical Illusion has a strong piney character to it, that's very dry with a nice lingering finish," noted Cerdone. "Being in the East Coast style of IPA, it is more assertive and less juicy."
The ABCs of IPAs: A Brief History
IPAs have gone through different phases and date back to the mid-1700s England, according to popular lore. Brewers shipping their beer to soldiers and expats in then-colonized India noticed the beer would spoil during the months-long journey. But not if they added hops.
"The British noticed that hops were a natural preservative, so they loaded their beer up with hops in order to preserve it for the journey. The result was an elevated alcohol level, because of the secondary fermentation period, and a beer that was more flavorful and bitter, with more of a punch," said Cerdone.
The IPA became a style in its own right, but when it came to the United States, new styles were born. The East Coast IPA is similar to an English-style IPA, being more malty and caramel-like. When West Coast brewers got a hold of IPAs, they turned up the volume on hop dosage, noted Cerdone, creating a resinous, tongue-buckling bitterness.
Finally, the Hazy or New England style IPA is often opaque, low in bitterness, high in hop concentration, and presents with fruity and juicy characteristics. Think notes of mango, papaya, orange and guava. Lower bitterness is achieved by adding hops later in the boiling process.
While our residents stayed for the brews, bites and camaraderie, the chance to learn a bit more about IPAs was a welcome perk! Suffice to say, our residents enjoyed a relaxing (and enlightening) end to their week.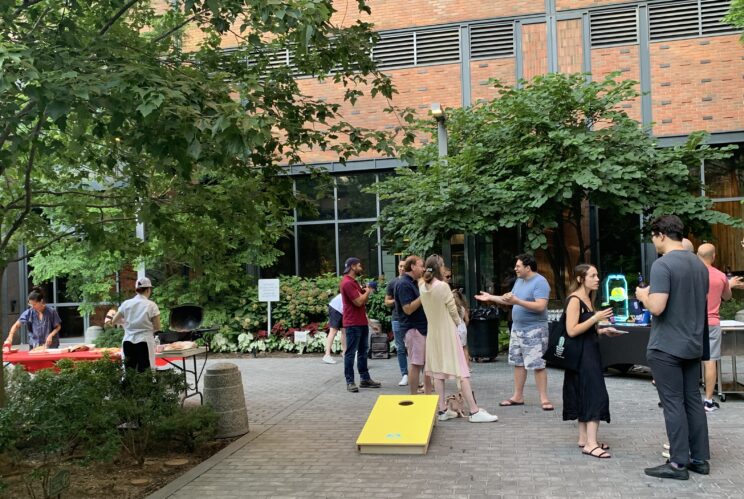 The Related Life is written and produced by the Related Life Editorial Team. Be sure to follow us on Facebook and Instagram for the latest events, news and announcements in your area, and tag us for a chance to be featured @therelatedlife and #therelatedlife.