Peak Executive Chef Chris Cryer Shares His Indulgent Salted Sweet Potato Recipe
Fall is here, and root vegetables are back in focus. Pumpkins, potatoes, squash, beets, carrots, brussel sprouts…they're all on the menu. Yet one of the most iconic is sweet potato, the popular Fall side that also features in that favorite autumnal pie. At Peak Restaurant in Hudson Yards, however, sweet potato takes center stage as a main dish with a happy following. The Related Life caught up with Chris Cryer, executive chef at Peak, to share the recipe of one of the restaurant's signature fall dishes.
"Sweet potatoes are a versatile Fall ingredient that pack a lot of flavor," Chris said. "They pair well with many different flavor profiles, which is why this humble ingredient was our first choice when setting out to create a hearty vegetarian/gluten-free dish for our guests."
Check out the Salted Sweet Potato recipe in its entirety below, remastered by Chris for easy prep at home.
Main Recipes
•   Fingerling Sweet Potatoes (6 medium sized potatoes)
•   Sweet Potato Chips (plus canola oil to fry chips)
•   Vegetable Jus
Rice-less Risotto
•   Small Brunoised Sweet Potato (2 cups)
•   Sweet Potato Puree (1/3 Cup)
•   Chiffonade Kale (1/8 Cup)
•   Goat Cheese (1/8 Cup)
•   Vegetable Stock (1 ½ Cup)
•   Golden Raisins (1/8 Cup)
Step 1: Vegetable Jus (4 hours)
This is the most time-consuming part of the dish, so I would recommend doing this the day before. This is a rich vegetarian sauce that pairs well with a lot of fall vegetables and grains. For the Vegetable Jus, gather together the following ingredients:
•    2 Large Carrots Chopped
•    Whole White Onions Chopped
•    1 Whole Celery Stalk Chopped
•    1 Head of Cauliflower Chopped
•    2 Whole Potato Chopped
•   10 Cloves Garlic
•   2 Cups Tomato Paste
•   2 Quarts Red Wine
•   2 Quarts Water
•   2 Tbsp Sherry Vinegar
•  4 tbsp Tamari Gluten Free Soy Sauce
•  TT Kosher Salt
Toss all chopped and whole vegetables in tomato paste, spread on sheet tray and roast at 350 degrees F for 25 minutes. Caramelizing your vegetables will help produce a richer flavor. Add the vegetables to a pot with red wine and water. Simmer and reduce the liquid by 50%, then strain. Add liquid back in into a pot and reduce again until slightly thick, season with sherry vinegar, tamari, and salt.
Step 2: Salt Baked Sweet Potatoes
Peel fingerling sweet potatoes (reserve skins for fried chips) and place over bed of sea salt, bake at 350 degrees F until fork tender. Take potatoes off salt and set aside for later.
Step 3: Sweet Potato Chips
Add oil to a heavy bottomed pot. Oil should be 4" deep but should stop at least 2" from the top of the pot. Using a thermometer, bring canola oil at 325℉. Add skins and fry until golden brown and crispy. Using a slotted spoon, remove, place on baker's rack and season with salt. These will add a crunchy component to the dish.
*Always use caution when cooking with fryer oil and have appropriate safety measures nearby.
Step 4: Sweet Potato Puree
Dry roast 2 large, sweet potatoes until cooked through. Peel off skin and blend on high in Vitamix, adding a little vegetable stock to help make it smooth. Season with salt and set aside.
Step 5: Glazed Sweet Potatoes
Heat up your salt baked potatoes in the oven on a sheet tray at 250℉. While they are warming, heat 2 cups of vegetable jus in a flat pan. Once the potatoes are hot place them in the sauce and glaze them over low heat. Set aside while you make the rice-less risotto.
Step 6: Rice-less Risotto
In a medium sauce pot, add diced sweet potato and vegetable stock. Cook sweet potatoes on low heat until they are slightly tender. Add the kale, raisins, puree, and goat cheese to the pot. You are looking for the same texture and consistency as a traditional risotto. Season with salt.
Step 7: Plating
On a plate add the rice-less risotto, followed by your glazed sweet potatoes and crunchy sweet potato chips to garnish.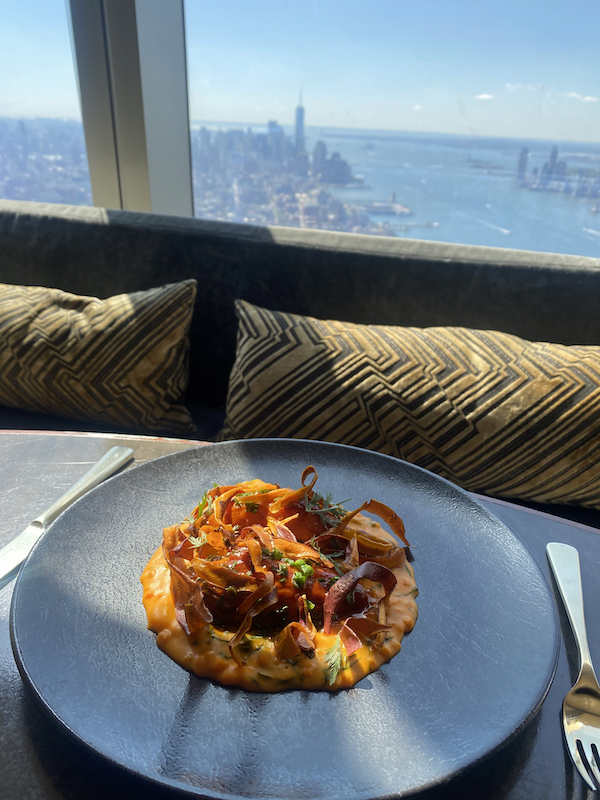 The Related Life is written and produced by the Related Life Editorial Team. Be sure to follow us on Facebook and Instagram for the latest events, news and announcements in your area, and tag us for a chance to be featured @therelatedlife and #therelatedlife.