Hop into Fun with Our Spring Crafts Roundup
April is that month where we really start breathing in Spring. The season's warmer breezes usher in new beginnings, and we are blessed with holidays that give us an opportunity to spend time together. That's because later this month, Easter and Passover grace the calendar. To get into the spirit of Spring, The Related Life went to our top source on family fun – Lindsey Peers, founder of The Craft Studio. Keep reading for Lindsey's recommendations on Spring-themed arts & crafts that are sure to keep the whole family entertained.
Create Cheerful Flower Crowns!
"Flower crowns aren't just for music festival attendees …they are the kind of Spring magic we all should get in on!  And while they seem intimidating, they are easier than you think," Lindsey exclaims.
Use a headband as the base -- a circular one or the classic horseshoe-shaped one works -- and pipe cleaners to make your crown. Line up the flowers next to the headband, and then bend them gently to estimate where to cut the stems so that flowers measure the same length as the headband.
Starting from the base of the stem and a far corner of a headband, gently start wrapping the pipe cleaner to secure the headband. Use the wispy leaves and buds of the flowers to cover up the pipe cleaner portions. About every inch,  attach another piece of a pipe cleaner to wrap and secure the flowers. Once the majority are secured, you can go back and insert buds or leaves or full blooms where it looks sparse!
Build Your Own Passover Matzah House!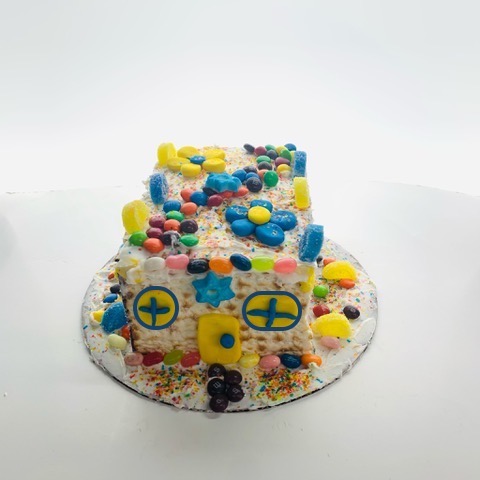 Pull together a wide selection of kosher candy and icing, set up a workstation area for guests, and then set the clock! See who can make the most creative Matzah house within 30 minutes, for example.
"Kids watch out! Grown-ups have been known to invade this fun and yummy game," Lindsey says.
If you don't have time to hit the stores, you can pick up this awesome Passover Matzah House kit at The Craft Studio.
Create A Happy Easter Scene!
Give your chocolate bunny a place to call home!
"With a green icing bag, decorate a plate and use all of your Easter candy to create an adorable bunny scene that serves as an amazing centerpiece," advises Lindsey. "The icing also acts as glue to adhere the candy."
For a super-convenient, all-in-one option, you can shop the Candy Easter Scene Kit at The Craft Studio.
The Related Life is written and produced by the Related Life Editorial Team. Be sure to follow us on Facebook and Instagram for the latest events, news and announcements in your area, and tag us for a chance to be featured @therelatedlife and #therelatedlife.